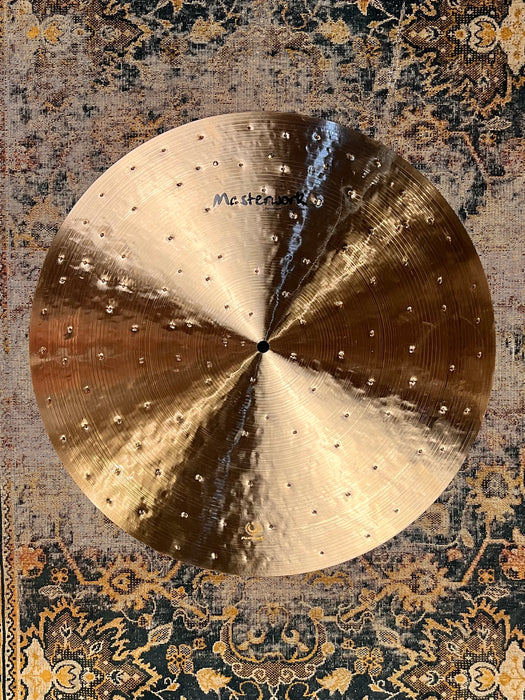 ULTRA MELLOW Dry Masterwork Deep Hammer FLAT RIDE SIZZLE 20" 1458 g
Original price
$269.99
-
Original price
$269.99
This is one of the thinnest, lightest most MELLOW cymbals you will hear!  Period. No big company makes anything close to this beauty!


And it's unbelievably dry sounding too!  It has a super fast decay.  


It is a rare combination of extremely mellow and soft with the lightest, complex sibilant HIIIISSSS. 


Hand Hammered Masterwork Deep Hammer Prototype 20" Paper Thin FLAT RIDE SIZZLE.


As many a cymbalholic know, Masterwork makes some of the warmest, smoothest cymbal lines ever produced. And this one-off 20" is a great example or their dedication to the art.


Look at the super fine lathing with very deep, pinpoint hammering. 



Very THIN 1458 grams, bendable but still with enough tension to give it a light and clean, dry definition on top

. 


The absence of a bell controls the overtones and volume beautifully.  Adorned with 3 factory brass cluster rivets that create a very subtle "hissssssss" Sizzle that extends the light, warm wash.


Crash on it for lightning-like accents. Perfect even for hand percussion. I mean this 20" is very light and audit sounding. It's insanely responsive. 


Incredible for very low to medium levels and glorious to record. 


No one makes a unique Paper Thin 20" like this. The next closest cymbal is hundreds of grams heavier. 



New condition. Immaculate. Nothing like it!