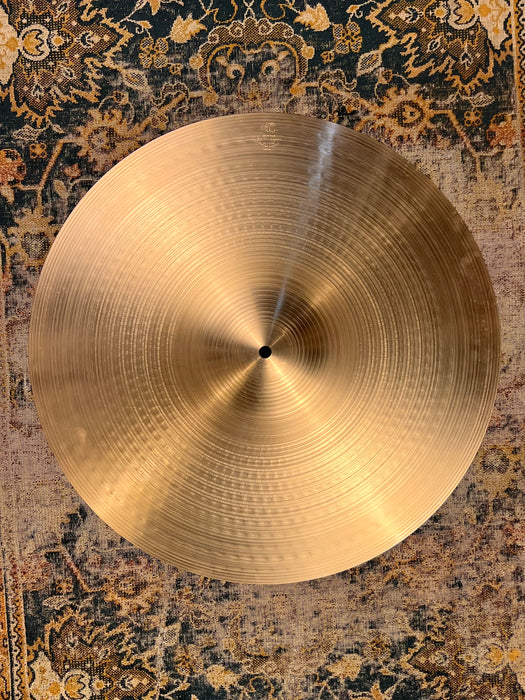 Rare Limited Zildjian TAKE 5 RIDE 20" 2090 g IMMACULATE Semi-Dark Balanced
Original price
$329.99
-
Original price
$329.99
Here's a beautiful Zildjian with an illustrious story!  


A Rare and Limited Zildjian "TAKE 5 RIDE" 20" that is in immaculate condition. 


You guessed it!  This was a special run cymbal that Zildjian crafted after Joe Morello's original Zildjian that was featured on the first million-selling jazz instrumental recording of all time. 


"TAKE 5."  


And I gotta' say, they did one hell of a great job! I'm listening to Take 5 as I write this listing. There's a semi-dark tone with a light brightness percolating that you can hear in the recording that this 2090 gram 20" beauty captures.  


Here's what Zildjian says about this cymbal:
"The 20" Zildjian A "Take Five" Reissue Ride Cymbal is modeled after the original Zildjian cymbal played by Joe Morello on the legendary Jazz recording, "Take Five," by the Dave Brubeck Quartet. This cymbal has an old-style stamp on the top and a laser engraved serial number on the bottom." 


Factory written under the bell "TAKE 5 RIDE." 


Beautiful factory Vintage Traditional look on top - with no ink.  


Gorgeous old school style handiwork on this 20". 


Plays like a Thin Crash Ride with clear definition. Easily crashable.  


Joe Morello only had one cymbal on the recording - and this can easily be the only cymbal you need as well.  


Rides. Crashes. Has a solid 5.5" bell. 


Demoed for the video. Very hard to actually find one of these out in the wild.  


A wonderfully versatile 20" that celebrates one of the most iconic jazz…(or POP)…hits off the 20th century.