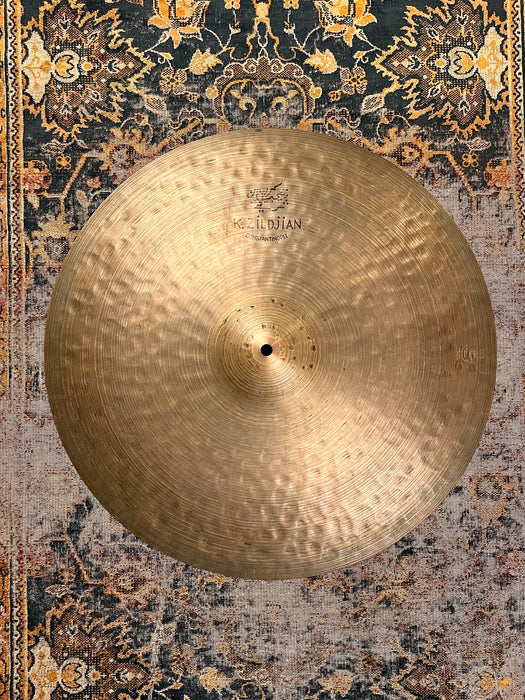 23 YR OLD DRY ORIGINAL Zildjian K CONSTANTINOPLE Medium Ride 20" 2124 g
Original price
$449.99
-
Original price
$449.99
A K Constantinople that has naturally aged 23 years is a beautiful cymbal!  Have a listen! 


These Original K Constantinoples are getting harder to find these days and this one is hitting that sweet and mellowed age. 


Cymbals like this get better over time. They mellow and dry out bringing forth a cleaner stick attack. And that's exactly the case we have with this Original Zildjian K Constantinople 20". 
For this series it has a DRY stick attack that is followed by that famous K Constantinople warmth but it remains controlled. 


Weighing in at a perfect 2124 grams this gorgeous K 20" plays like the Original or First Run Medium - because that's what it is! That's another reason the stick articulation is clear and present. It's not remotely a heavier cymbal but it does have enough tension to be semi-dry and articulate.  


It's easily crashable and has a terrific, glowing spread that dissipated medium fast. 


Overall Very well balanced. Great attack with a warm, broad glow.  Father Time has enveloped the "Medium" stamp but this beauty is right in that weight range and era. 


As far as this series of K Cons Medium goes, this one is exceptionally smooth and even. 


Bright and dark overtones are present giving it a harmonious feel and sound. 


This is Zildjian's Top of the Line Series, and it shows.


Fantastic condition.  No issues. Golden patina has befriended this beauty.  


This well over 2 decade gem will continue to age gracefully. It's just hitting its stride.