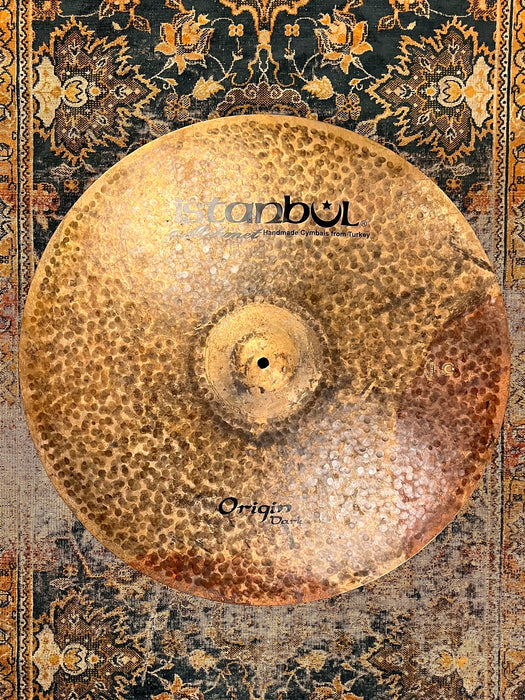 MASSIVE BENDABLE DARK TURK Istanbul Mehmet Origin Dark 24" Ride 2952 g MINT
Original price
$439.99
-
Original price
$439.99
Here's one of the nicest DARK 24s" you will encounter. Period.  


Have a look.  And better yet, have a listen! 


A beautiful hand crafted 2 foot unlathed and raw multi application crash or light ride. 


Take a Turk Ride, make it a pinch thinner, and give it a slightly smaller Bell for more control and VOILA! You have this damn-near-impossible-to-find, gloriously generous Origin Dark 24". 


The Agop version of this is $700. Literally. And the Zildjian K Light is the same. 


This raw 24" reminds me of a cymbal Brian Blade would play - something that you can draw tones out of effortlessly. 


At only 

2952 

grams it's a very thin and incredibly DARK! The edges are easily bendable, and that's a damn nice thing on an unlathed, raw 24".  


Perfect as an organic Thin Ride or Massive Dark Crash. 



Smoky and ultra dark. Famously RAW, unlathed, heavily Hand Hammered earthen copper/gold/sienna appearance

.
These cymbals are renowned for their dry, dark, smoky organic tone, and this stunning 2 foot beauty brings the renown reputation to life.


Lower profile and bell, exotic, dark, brooding, organic, and definitely crashable.


You create the voice, but this cymbal is the vocal chord.  



One of the nicest dark, dry cymbals around. Guaranteed. 

  


Immaculate condition. Amazing. And a joy to play! 


No one has a beauty like this 24!  And it's the price of a regular-ass machine made Zildjian 22" medium ride!