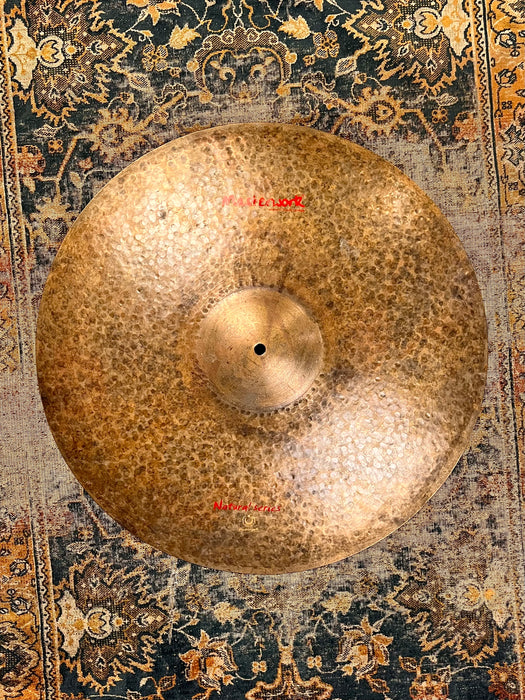 MASSIVE DRY RAW Unlathed Masterwork 22" EXTRA HEAVY RIDE 4608 g EARTH
Original price
$269.99
-
Original price
$269.99
I present to you, the one of the HEAVIEST, MOST FOCUSED 22" Cymbals you will find.  


IMAGINE A DARK, HAND HAMMERED 22" EARTH RIDE!! WELL, THAT'S THIS BEAUTY!! ABOUT 1000 grams heavier than a heavy ride!


Raw, unlathed Hand Hammered Masterwork Turk Style Natural Extra Heavy 22" Ride at a whopping 4608 grams.  


One of the heaviest cymbals you will ever encounter - and it's remarkable that it's Hand Hammered too. You never see that.  


Ultra Dry and focused with a deep and dark penetrating stick attack. Magnificent, raw and piercing BELL that cuts a mix beautifully.



The raw surface conjures up dreams of Mother 

Earth's tempestuous beginnings. Metals churning at violent temperatures and then slowing, cooling for eons until they reach their natural state.


With a bell as majestic Mount Fuji and a tone as dry as a Sonoran salt flat, this brutish 22" beauty delivers a dark aggressive attack that is unlike almost ANY other HAND HAMMERED cymbal in the book.


The wash is very, very controlled and focused.


Weighing in at a colossal 4608 grams this Turk style Ride projects with a ferocity (and that's over 10'lbs for a 22"!!!!)


Extremely SOLID! Extremely dry, dark lower pitched attack but still gifted with a pinch of that magical Turkish Wash!


Amazing for medium to extra pound music and LIVE. Much like the 22" Earth Ride, you're only limited by your imagination.



No issues. Immaculate shape. Nothing like this Hand Hammered 22" out there.