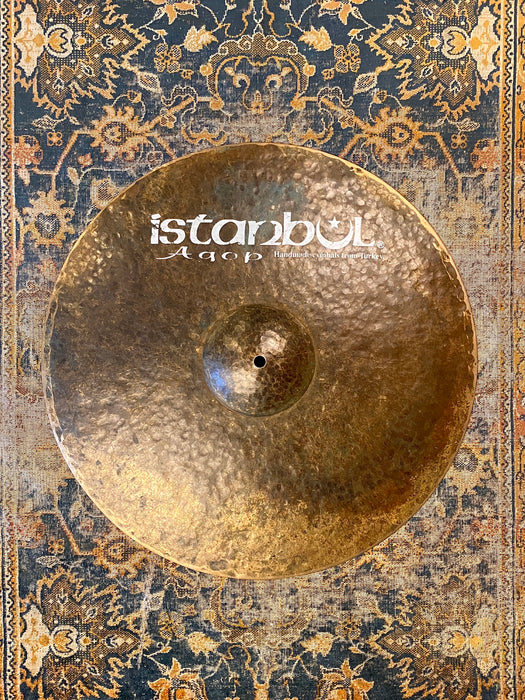 EARLIER ISTANBUL AGOP Turk Ride 20" PRE SPLIT? 2565 g
Original price
$399.99
-
Original price
$399.99
Here's a fascinating Istanbul AGOP.  This one looks, feels and sounds like a Pre Split Agop Mehmet to me. It seems to be a very early AGOP TURK.  


UNLATHED AND RAW and Hand Hammered - from THE company that ushered in the old world craftsmanship - the kind of artistry that fomented a movement of boutique cymbalsmiths.


And….


Istanbul's old-world Zildjian Istanbul K-styled handiwork attracted the ears and signatures of jazz greats Mel Lewis and Elvin Jones. Elvin even had a Pre Split Agop Mehmet TURK 20". 


Ultra dry with an absolutely fantastic stick attack! All that beautiful Hand Hammering supplies a very subtle, light complexity but it remains extremely DRY and controlled.  


Unlathed and Raw TURK surface is striking! It makes this Earlier Agop TURK incredibly dry sounding - this beauty is all about attack!  Similar to a K Custom Left Side Ride or Dry Ride, but this TURK actually IS Hand Hammered.


This is exactly the kind of cymbal Elvin or Jack DeJohnette would play.  Very expressive and musical.  Something that keeps a foot in tradition but also is fresh, new and BOLD.


Amazing condition with no issues. Very strong logos.  Incredible, naturally aged patina and dark sienna chocolate coloring.


Harder to find earlier Agop.  


This is one  of those cymbals that calls you over to the kit.