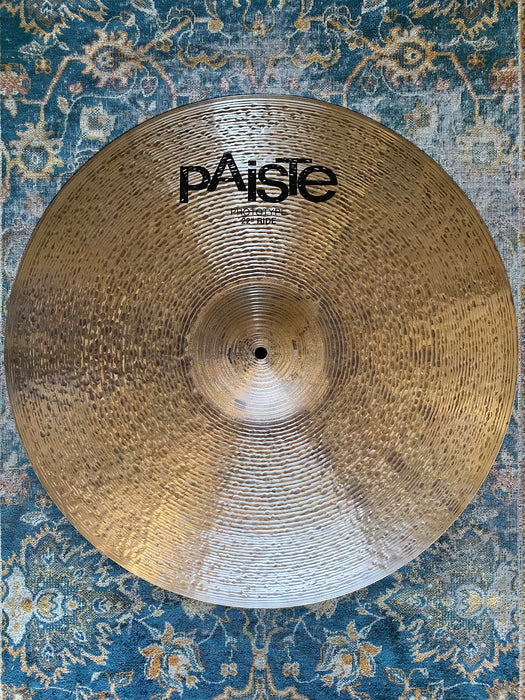 UNIQUE PROTOTYPE PAISTE HIGH DEFINITION 22" Ride 3122 g CLEAN DRY
Original price
$469.99
-
Original price
$469.99
What if Paiste made a Zildjian HIGH DEFINITION RIDE?


Well apparently they did….ONCE.


Look at this 22" MASTERS PROTOTYPE. 


It has all the hallmarks of the ORIGINAL Zildjian K Custom 22" High Definition Ride - the one that had the same golden/brown lathing on the top and the underside.



And at 

3122

 grams with a Raw bell underside - it has the similar weight and constitution as the Hi-Def Ride too.



Clearly Paiste experimented with in their 

Masters Series - this 22" is Hand Hammered and has the complexity and alternating brown and gold lathing that the Masters Series explored.


It's actually quite Istanbul AGOP - ish. And that's the void Paiste was filling with Master's Series - complex Hand Hammered Turkish vibe - way less clean than what normally comes out of Switzerland.


DARK. Medium Low pitched. Semi-dry terrific stick articulation on top with a controlled Hand Hammered complexity underneath. 


The bell is remarkably solid and cutting - like a High Definition Ride.  Overall a bit more body than the Zildjian - this one IS Hand Hammered.


With a Medium the Medium Heavy constitution this Prototype Paiste 22" commits to a well-defined attack projecting through a mix.


Cutting. Articulate. Fairly dry - especially for Paiste. Terrific attack and projection.


The Masters Series is awesome but they're overall very thin and washy. 


This is the counterpart you wish they offered.


Paiste makes nothing like this 22" Dark Proto.



No issues. Amazing condition. Looks perfect.