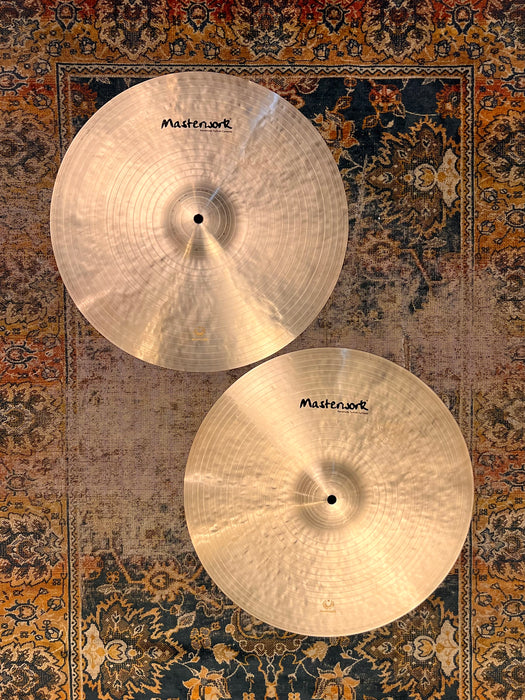 RARE GIANT MASTERWORK JAZZ MASTER 17" PAPERTHIN Hihats 1032 1130 Gs NEW
Original price
$349.99
-
Original price
$349.99
No big company makes ANYTHING likes these beauties!! 


Rare Massive Paper Thin 17" Jazz Master Masterwork Hi Hats! NEW! 


YES! SEVENTEENS!  You can crash on them in the hihat position - straight up!  That's how beautiful they are! 


Dig the craftsmanship on these Hand Hammered unique wonders - glowing golden tone. They actually have that Vintage Istanbul K style lathing that Zildjian was trying to imitate for Cindy Blackman with the 22" K Dark Medium 22" Ride.


As many of you may know, the Jazz Master Series cymbals are fiercely sought after because they represented some of the NICEST sounding Hand Hammered cymbals produced.


Weighing in at a THIN 1032 grams for the Top Cymbal and 1130 grams for the Bottom Cymbal, these Jazz Masters play like WARM & HUGE PAPER THIN HATS. They have a luscious organic, warm, dark vibe that just glows from behind the kit-beautiful Old World Turkish Style semi-complex vibe, yet STILL  ultra smooth! 


Very dynamic and musical - very mellow. And when opened they splash and even crash beautifully!!


Very mellow Steve Jordan or Brian Blade vibe.  With a light touch you can ride on them too. 


Incredible for recording. 


Use them ANYTIME you need a great low pitched, super warm, super dark, smooth  Hand Hammered Turkish tone. And they have a nice CRISP, GLOW to them as well. 


OR THROW THEM UP ON A CYMBAL STAND AND YOU HAVE TWO FANTASTIC PAPER-THIN CRASH CYMBALS.  


However you use them, they're a lot of fun to play!