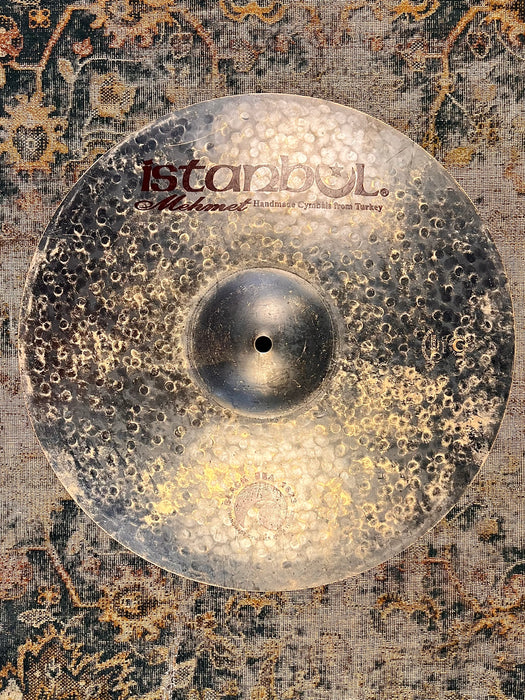 Dark DRY Smoky Istanbul Mehmet BLACK SEA 16" CRASH 1042 g AMAZING
Original price
$239.99
-
Original price
$239.99
This is one of my favorite newer cymbals. This Black Sea Series is like a slightly smoother, more refined TURK. And it's stunning looking - black and gold with crimson emblem. 


Not an easy cymbal to come by outside of a random stock photo but definitely worth the search.


It's very close to the elusive Paiste Dark Energy Dark Dry Ride. 



Tempestuous, RAW, unlathed, heavily Hand Hammered earthen black/gold/appearance, newer series, Istanbul Mehmet 16" Black Sea Crash. 
Circular hand-hammering throughout. Antique look and Old World tone - this particular beauty sounds like a Dry Istanbul K from the 1940s. 


And being an 16" it's fast, dry and controlled. 


The attack is dry and opens quickly and the ensuing wash is dark, smoky, very organic with a bit more cleaner tone than a Turk Ride or Sultan. 


And it's quicker too - the dryness and 16" size gives it a short decay. 


If you have a very light touch this is an absolutely stunning sounding smaller DRY LIGHT RIDE. 


Almost seems to have an ounce of Paiste in it, but to be honest, Paiste wishes they could be this organic! 


1042 grams. Thinner weight but still enough tension to yield great attack. Medium low profile, solid bell - better than the Turk, exotic, dark, brooding, organic with an ounce of refinement. 


Crashable. Controllable. 


One of the nicer dark, DRY cymbals around - no issues.  Immaculate condition although it looks like it just came back from Poseidon's basement, which I love. 


Hard to find. Incredible 16" that makes a statement both visually and sonically.