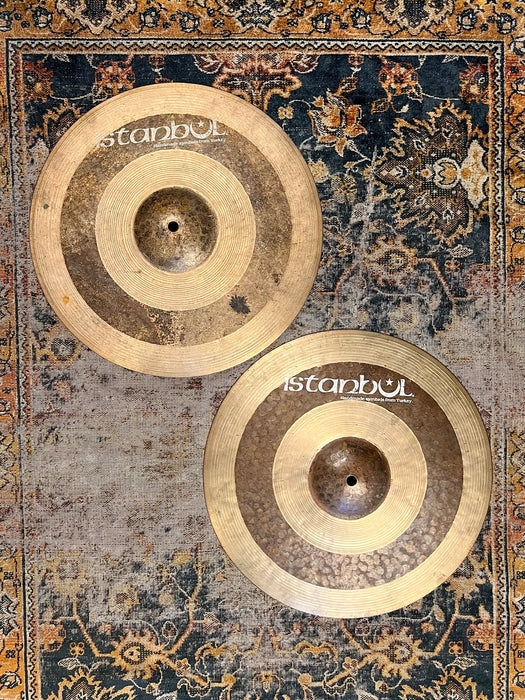 RARE PRE SPLIT ISTANBUL AGOP MEHMET SULTAN Hihats 14" 1100 1270 g
Original price
$439.99
-
Original price
$439.99
Here's the future of collecting. A Very Rare pair of PRE SPLIT Istanbul Agop Mehmet SULTAN 14" Hihats in fantastic shape!


Yes. SULTAN Pre-Split hihats! I'm not even sure I've seen another pair of these.  These were some of the first concentric ring raw/lathed cymbals on the market. Other companies copied these! 


FAMOUS early ISTANBUL WHITE LOGO and Hand Hammered - Before ANYONE had seen this kind of craftsmanship and beauty!  This is the mid 80s and early 90s and this is THE company that ushered in the old world craftsmanship - the kind of artistry that fomented a movement of boutique cymbalsmiths.


Istanbul's old-world Zildjian Istanbul K-styled handiwork attracted the ears and signatures of jazz greats Mel Lewis and Elvin Jones. And these beauties are from that hallowed era. 


What has now become a standard in Hybrids and Duos, these 14s" are the original raw, lathed, raw, lathed pattern. No one had seen this.  


 What's great about these specific Agop Mehmet Sultans is that they posses a very crisp and tight focused attack when closed, but in there is a hint of Hand Hammered complexity. You hear that Old World airiness that turned heads decades ago.  Open them up and you get a wonderful Hand Hammered sibilance.  Fantastic chick when played with your foot.  


1100 and 1270 grams.  Crisp and cutting but definitely mellowed after 30 years. 


Fairly DRY and focused stick attack, compliments of the raw, unlathed rings. Subtle Turkish wash that breathes life into a pattern but still remains controlled. 


Responsive with a broad dynamic range. 


Perfect for soft to loud and for anytime you want to play something with soul.
 

Fantastic shape. An amazing set of very rare hihats that launched 1000 copies.