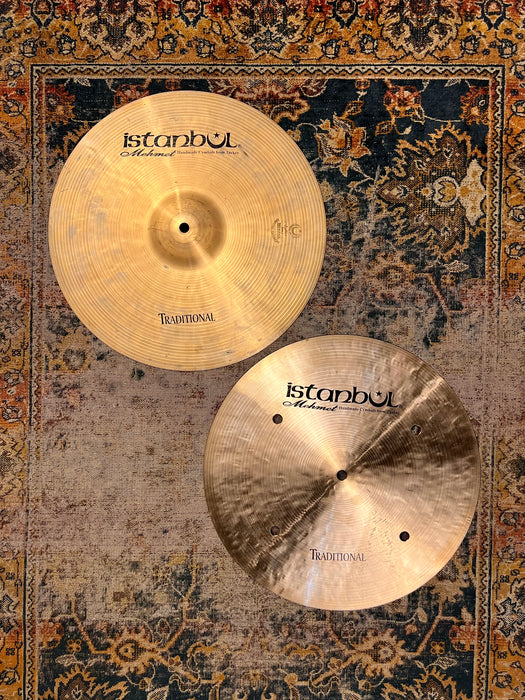 Rare Hand Hammered Istanbul Mehmet QUICK BEAT Hihats 14" 1108 1374 g
Original price
$249.99
-
Original price
$249.99
Hand Hammered Quick Beats!!! The joy continues!! 


Who knew these even existed! 
I love Zildjian Quick Beats. They've been on thousands of recordings and were the studio darlings of the 1970s and 80s with their famously focused crisp tone. 


But Zildjian never Hand Hammered them!!! 


And that's exactly where is Istanbul picked up the ball!! 


Hand Hammered Istanbul MehmetQUICK BEAT styled 14" FLAT Hi Hats in Amazing Condition. 


The best part about Quick Beats is they offer an ultra-tight and crisp, focused tone that cuts magnificently. 


Now….imagine that with an Old World Hand Hammered Turkish light complexity. Why it's a beautiful thing!  


Have a listen!! 


Seeeeeeee! It is fun!!  


These Rare Istanbuls pack a crisp and tight tone when closed, however actually being Hand Hammered they possess a lovely light complex liveliness to them. Classic Istanbul Traditional tone. 


When closed tight they have that great, clean articulate TIGHT sound. 


Open them for a beautiful, more organic and complex tone than Zildjians. 



1108 and 1374

 grams give them the traditional Quick Beat Medium-Heavy Top to Heavy Bottom Hi Hat ratio.  


And they CUT!! 


And those lovely factory 4 holes on the Flat Bottom Cymbal enable fast action when played with you foot. 


Crisp. Tight. Focused. Hand Hammered.  And that's a rare combination. But then again these hihats are rare. 



No issues. Amazing shape. Very hard to find.