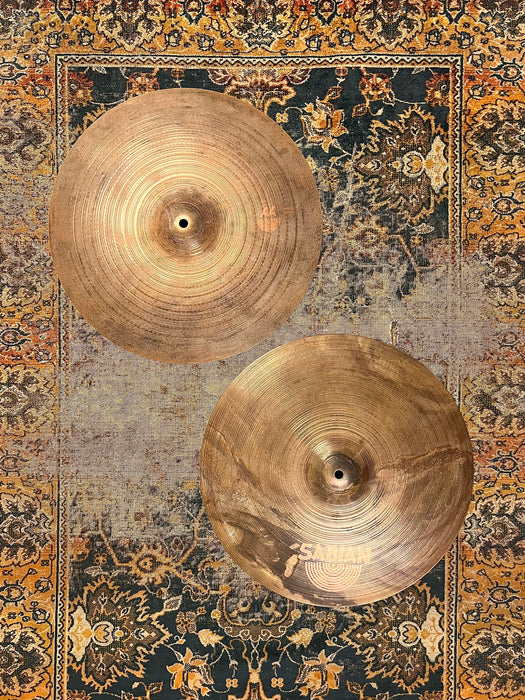 Massive DRY Dark Sabian 16" Apollo Hihats 1113 1352 g CLEAN AA
Original price
$379.99
-
Original price
$379.99
No need to go $540 on a stock photo guess of what these massive hihats sounds like.  Have a listen and buy with confidence. That new pair will look exactly like these after 3 weeks. 


And I'll say it! This series is one of the most underrated cymbals series there is.  If you like thin, dark, dry, crashable and even rideable. Here you go!


And these are the MASSIVE 16s". So big you can crash them or even use them as a controlled dry ride - it works. 


Sabian Big And Ugly APOLLO Hihats in amazing condition.


As you can see, the top surface of these cymbals is RAW unlathed (or just very slightly lathed) on top however the underside is fully lathed providing added complexity to the dry attack of the top.


Weighing in at a fairly svelte 1113 and 1352 grams, this Sabian Apollos play like a great FAIRLY DRY and DARK massive 16s".  They are a blast to play. Very organic sounding and they are wonderfully responsive. They play thin but still have enough weight to cut. 


And it may sound crazy but you can indeed open them up fully and use them as a small and controlled DRY LIGHT RIDE - the Raw top provides a nice and subtle stick attack while riding.


Medium Thin. Very responsive. Slightly bendable. Very dry but with a pinch of complexity.  Opens quickly and evaporates quickly! VERY dynamic! Complex but with control too! 


No issues.  Amazing shape. One of the most usable DRY cymbals Sabian ever made.  


Don't see many around that you can actually hear before you buy.  This set is beautiful.