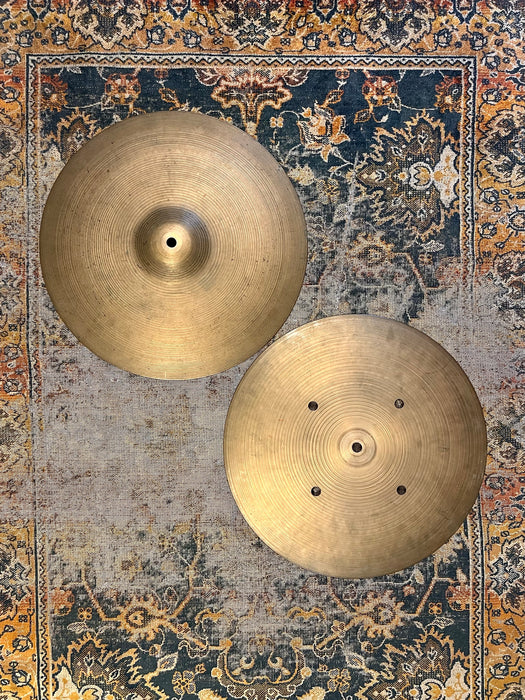 Vintage HOLLOW LOGO Zildjian QUICK BEAT 14" Hihats 1138 1464 g VINNIE
Original price
$299.99
-
Original price
$299.99
What did VINNIE COLAIUTA play in the 70s? 


You're looking at it!!! 


That's right!  Vintage Hollow Logo 14" QUICK BEAT Hihats.

 

1138 

and

 

1464 

grams.  And this pair is from the first few years of production. 
The JOY! And it comes as no surprise because these particular Quick Beats deliver terrific straight-up attack and articulation. And they CUT! 


Oh…..and they don't cost $430 as the redesigned ones do.  These Hollow Logo Vintage ones are few and far between today. 
The new ones are not nearly as crisp and articulate as this pair. Today's Quick Beats are thinner and lack the punch the earlier ones had. 


Quick Beats are my favorite Hihats.  They always have been. They're all over 70s and 80s recordings - JR Robinson and Clem Burke are big fans of the Quick Beats. Peter Criss used them as did Vinnie. 


Often described as:
"Features air-vented, flat-bottom cymbal for accelerated response and clarity. Exuberant Hihats that burst with a classic voice that is pure, bright snd expressive. Quick Beats have an especially fast response with four holes in the bottom that allow quick air release."  


These hats sound killer. As you can see, the bottom cymbal is FLAT and outfitted with four factory holes that facilitate QUICK foot action with your pedal. Does it really work? Hell yeah. The difference is immediately noticeable. 


With their SUPER CRISP Tone...and I mean SUPER CRISP...and CLEAN, and bright, TIGHT attack, these Early Vintage QUICK BEATS  project supremely. And the flat, four holed bottom cymbal is a joy to work with your pedal.  


What I really dig about these 40-year-old Zildjians is that with the exception of super-low volume jazz, you can use these quick Earlier Quick Beats on absolutely ANYTHING. Rock, pop, blues, funk, definitely fusion, country, reggae, punk, world, session work, and anytime you need a great bright, FULL tone that is guaranteed to project. Especially LIVE. They're workhorse hats. No wonder Vinnie liked them. 


And this particular pair is even DRIER than the new ones. Great patina. No issues.  



Don't spend over $430 for a set that won't be as crisp as these.  That's ridiculous! 



These Original Early Vintage ones are studio proven.


Get the celebrated ones from the debut years!