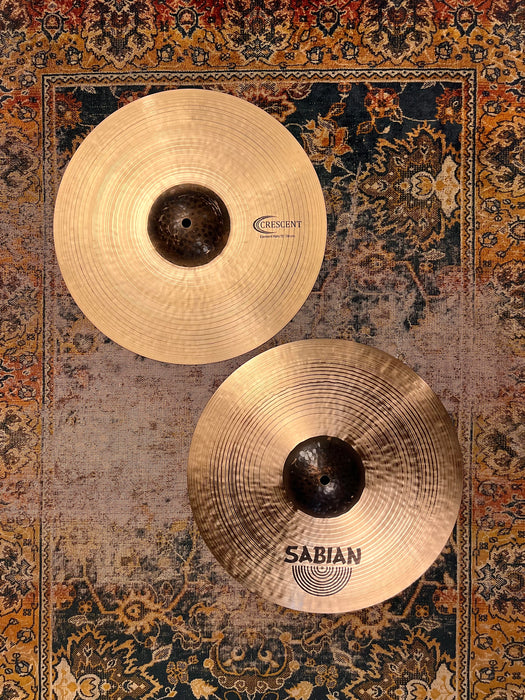 Rare 15" Sabian CRESCENT Hihats 1144 1517 g IMMACULATE Discontinued Don't Pay $700
Original price
$439.99
-
Original price
$439.99
Here's a gorgeous pair of Semi-Dry 15s" you won't find!  Hell I don't think Sabian makes these anymore. If you can find one they're literally $700. 


But no one need live that awful life! 


Far from it! Have a listen to this pair so that you can buy with confidence! 

This is a fascinating set of hihats: what began as a Bosphorus, then became Crescent, then became Sabian Crescent, and now of course they're damn near extinct! 


The funny thing is that these are some of Sabian's nicest hihats and should not be lost just because the marketing was. 


These are like the pre-cursor to the Sabian Raw Bell Artisans - they have the golden lathing and glorious Hand Hammering and that Raw Bell that provides some projection and dryness.


And I'm sure that's also why Sabian charges $700 for them - they're in the Top of the Line Artisan family! 


What I love about these particular 15" Hats is that for lathed hihats they offer a controlled and dry attack. For all of those drummers out there bitching about, "I need better stick attack but I still want warmth, these Sabian Crescent 15" Hihats might be your Dark Horse turned Pegasus.


Weighing in at a well-balanced 1144 and 1517 grams, this particular pair of 15s" plays like FAT, dark, semi-dry hats. The 1517 gram bottom ensures a solid chick tone when played with your foot and the 1144 Top ensures plenty of articulation. 

Focused and controlled without sounding dead or clanky. They have a delicate softness to them when played lightly - a hint of golden warmth and Hand Hammered complexity! 


Fantastic for low to louder volumes!  Responsive. Articulate.  Fat. Semi-dry. Great cutting ability but still with a light airiness to them! 


Immaculate condition. Extremely hard to actually find in the flesh - not a "special order" stock photo. 


Cost well over $700 new.  But not today….