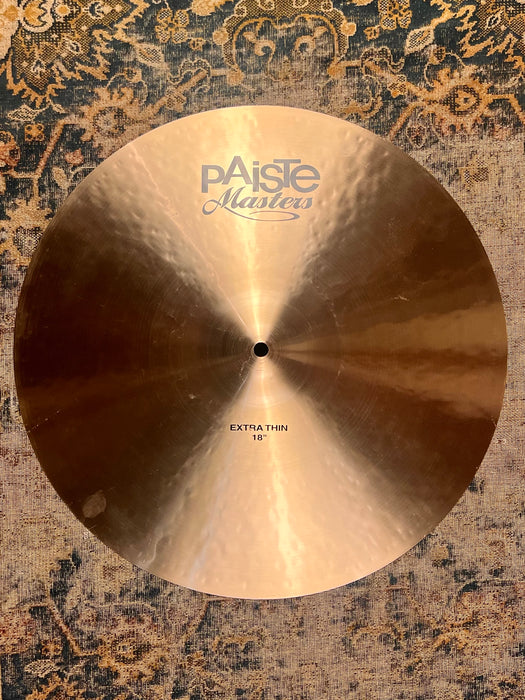 Ultra Glowing Paiste MASTERS EXTRA THIN 18" MULTI CRASH RIDE ONLY 1146 g MINT
Original price
$349.99
-
Original price
$349.99
I'll keep this one simple:


This is one of the nicest cymbals Paiste makes. And I bet it's soon to be discontinued.  I have a hunch - Paiste just raised all their prices too. 


This particular one has a dark, smooth glassiness and softness to it.  It's an EXTRA THIN and it has a beautiful golden glow and is not stiff like many brand new Paistes are. 


No need to stare at a google stock photo and guess. Listen to this one. You don't find many of these actually "in-stock."  But I have this one in my hands.  


This 18" feels like someone has been playing mallet rolls on it for the last 30 years. Soft. Malleable. Rippled. Settled. But it looks as fresh as tomorrow.  


Paiste Masters EXTRA THIN 18" Multi Crash Ride in amazing condition. 


Like the Giant Beats, this 18" is designated an EXTRA THIN - meanings it has a multi application use.  It can be a Crash or Ride or Crash Ride. 


Insanely responsive.  


Glowing warm, lush huge crash.  Beautiful mellow and glowing Thin Ride. 


Or both. 


Hardly any Paistes are this thin - a 18" at 1146 grams. That's usually the stuff of lore.  But here we are. 


Paiste describes this 18" as:
"Dark, soft, warm, deep. Medium wide range, complex mix. Buttery feel, very responsive. Fine stick sound with hints of silver and wood over a broad, low-pitched warm, deep, multilayered wash. Wide, warm, full crash sound. Very lively, controllable. Multifunctional cymbal for refined ride playing and swelling, deep crashes. Also well suited for mallet playing mallets."


Ahh look.  For "mallets."  Well someone must have taken Paiste's advice. 


Amazing for very soft to medium loud.  Incredible for recording. 


One of the nicest modern Paper Thin cymbals you will find. 


No issues. Only played for the video. That's it! 


Have a listen - this  one is glowing. Don't spend more on a guess.