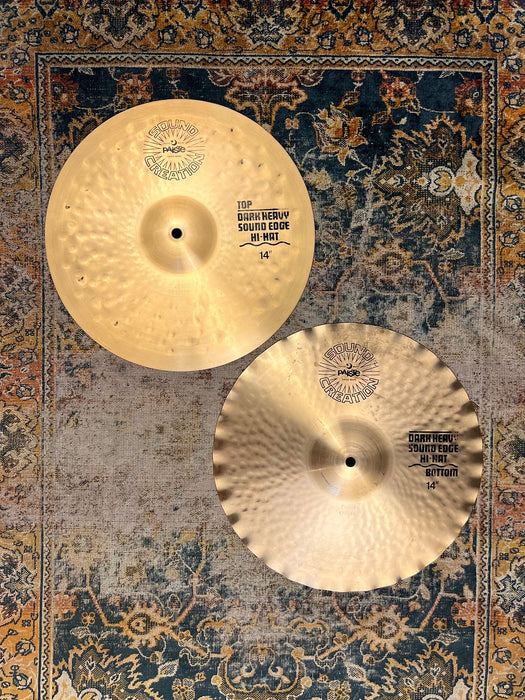 Rare Paiste SOUND CREATION SOUND EDGE Dark Heavy Hihats 14" 1150 1258 g CLEAN
Original price
$849.99
-
Original price
$849.99
These rare gems are VERY CLEAN - some of the cleanest you will find for being over 40 years old!!! 


 These are the hi hats unicorns play! 


Extremely Rare Vintage Paiste SOUND CREATION Sound Edge Dark Heavy 14" Hihats in fantastic condition!   


Paiste makes nothing like these beauties today! 


And these hats are like 2 worlds colliding!! You get the darkness and warm complexity of the Sound Creation Dark Hats mixed with the BONE CRUNCHING CHICK of the Sound Edge Hats!! It's like peanut butter and chocolate, peas and carrots, or pickles and herring. Whatever simile works best for you, I don't judge. 


AND these 14s" are incredibly CRISP sounding - some of the most crisp sounding Paistes that ever were to be made. 


As many of you may know, Paiste breathed life into the Sound Creations with the help and inspiration from Jack Dejohnette in the 70s and discontinued the line in the 80s. The B20 Alloy Sound Creations sound like NO MODERN PAISTE on the market today. Any Paiste fan can verify that. In recent years, the Sound Creations have become fiercely sought after cymbals because many people feel that they no doubt capture Paiste at their best in terms cymbal making.


You simply CANNOT get this sound from Paiste today. Good luck getting this tone out of Signature or 2002 Sound Edge hats.  Not even close.
 
Paiste has always done THEIR THING--which is great, but it's ALWAYS Paiste. However, with the Sound Creations, Paiste really colored outside of the lines. The ENTIRE Series sounds nothing like their other Series. It's almost as the SCs were made by a different company. They're dark--ish, but they STILL project. They're complex, but retain definition. Truly brilliant cymbals.


As you can see, both the Top and Bottom Cymbals are Heavily Hammered. The lathing is extremely fine...like a vintage Giant Beat. The weights are 1150 grams for the Top Cymbal and 1258 for the Bottom Cymbal.


If you are familiar with the Sound Creations, then you know that their tone is unique. Medium Low Pitched, DARK, but still CLEAN and CRISP and surprisingly COMPLEX for a Paiste...and in a B20 ALLOY TOO!! 


Fantastic CHICK tone courtesy of that Scalloped bottom cymbal.


It's that simple. Dark, clean, crisp, B20...but with a fantastic dynamic range and musicality. Responsive at low volumes, and unlike the Paiste Traditionals or Masters, quite capable at medium to louder volumes. 


No issues. Some of the cleanest ones I've ever seen. Collectible.  Incredible Vintage Paistes you never see.