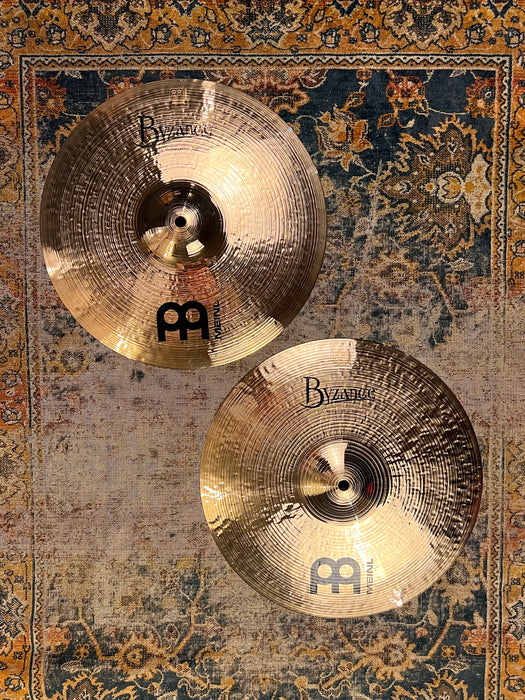 IMMACULATE in BAG MEINL BYZANCE Brilliant Medium Hihats 1178 1420 g Why Pay $550?
Original price
$379.99
-
Original price
$379.99
No need to spend $550 on a new pair of stock photo Meinl Hihats that you can't even HEAR!  That life sucks!! You should be able to hear your hihats do you can buy with confidence!


Like these!  Have a listen. And these are immaculate in the bag.


These are absolutely incredible sounding versatile hihats and being Brilliant they have a gorgeous dark shimmer to them.


Here's what Meinl has to say about these hats:
"Wide dynamic spectrum with a soft, warm sound. Unobtrusive and controlled open hihat sound with a crisp chick."


Weighing in at a lovely 1178 grams for the Top Cymbal and 1420 grams for the Bottom Cymbal, these 14s" play like Gorgeous Semi-DARK CRISP and smooth and Medium Thin to Medium Hihats.


The pitch is Medium LOW and they are glowingly WARM. Éxtremely warm and smoooooooth. And CRISP and FOCUSED.


These hihats are responsive at lower volumes and they have no harsh overtones. They're a beautiful pair af 14s with a clean cut tone ard CRISP chick and stick attack. AND they project quite well, compliments of the Medium weight. Play them open and they deliver a FULL tone that cuts through the din or Marshalls.


All with the dark shimmer of a Brilliant Finish!


No reason to pay $550 on a guess! Save a pile of money without sacrificing tone or condition!



These are perfect in the bag.