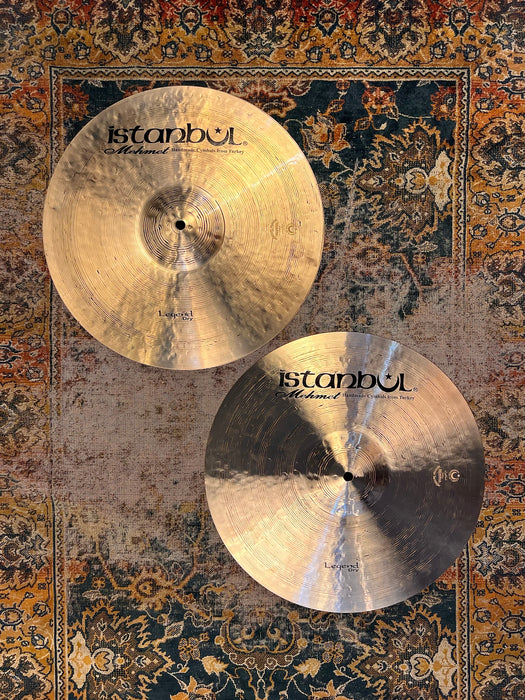 Rare MASSIVE Istanbul Mehmet LEGEND DRY 16" Hihats 1224 1438 g MINT
Original price
$439.99
-
Original price
$439.99
There's no need to spend $640 on Meinl Byzance 16s".  Or Zildjian Light Hats. That's silly!! 


These rare MASSIVE hand-hammered Istanbul 16s" have a glorious, dark, fat, low-pitched tone. 


And these are some of the newest Istanbul creations!  They're the only pair I have and the only pair I've SEEN! 
Istanbul's LEGEND Series (also known as the MEL LEWIS Series) is, well, legendary. 


It has long been one of Agop and Mehmet's best-selling series. It put them on the map 30 years ago.


Mehmet expanded the series and these LEGEND DRY Hats are some of my favorites. As you can see these massive 16" hats have a thin alternating gold/raw lathing.  Very Agop SE Special Edition vibe. Ish. 


The result is a stunning, ULTRA DARK, semi-dry stick attack when closed with a smoky, organic, fairly complex wash that dissipates quickly when opened. 


Beautiful dark sizzle when you open them up and play them loosely, clamp down for a tight, crisp, DARK, massive grooves. 
SUPER-dark, wonderfully low-pitched, very fat sounding slightly complex and all with the generous playground of 16s".  


This pair is in IMMACULATE condition. These 16s" are quite rare.  And they're a JOY to play. 


Some of the best cymbals they make. Very hard to find today. 


K killers.


Absolutely phenomenal 16s"!