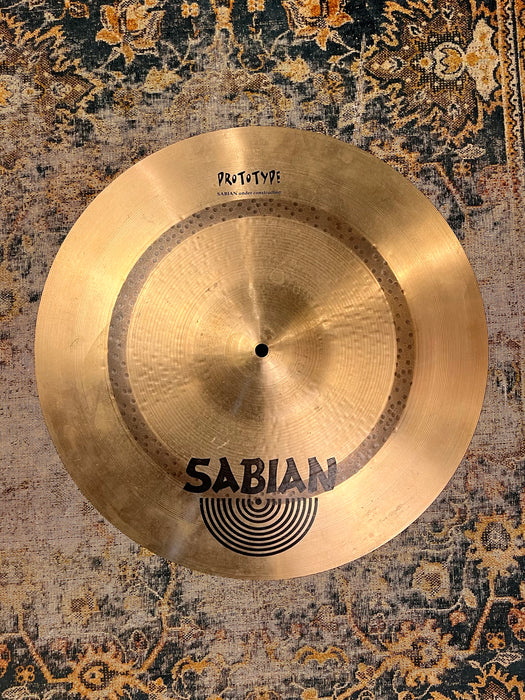 UNIQUE Sabian SULTAN STYLE PROTOTYPE HH Crash 18" 1278 g 3 Point Crash
Original price
$299.99
-
Original price
$299.99
Well here's a one-off custom Sabian you won't find anywhere else!


Take a look at this beauty! It's like an Istanbul Agop SULTAN Crash - it has golden lathing except for a raw, Hand Hammered band right in the middle of the plain.


It's reminiscent of a Sabian Jack DeJohnette 3 Point Ride but this is a THIN 18" Thin Crash with bendable edges.


Has "HH" marked under the bell - and indeed it is an HH.  It has all the classic ball peen style Sabian HH Hammering in the inner 12s" while the outer 6" are finely lathed. Had that classic HH warmth too.


The underside is fully lathed as well giving it a golden glow.


At only 1278 grams, this 18" plays like a beautiful Warm Thin Crash with a hint of control.  It's a fascinating cymbal that has no equal in the Sabian catalog.


The edges are thin and bendable generating a remarkably responsive feel and it opens up quickly.  


The bell is large and rounded over giving it a generous swelling wash however - and this is what is fascinating - that inner raw HH band on the middle makes this Prototype 18" a bit faster and a bit more DRY and controlled sounding than other HH Crashes.


It's a warm thin HH Crash with a quick open and medium fast decay. It can be explosive in the attack but isn't clanky because it's thin, and then the wash dissipates a little faster than a regular HH or fully lathed cymbal.


With a light touch this Prototype 18" makes a fantastic smaller Warm Ride. The stick attack is solid and the big bell can cut for such a thin 18".


Perfect for low to medium loud music.


I've never seen another Sabian with this Istanbul Sultan Style craftsmanship.  



No issues. Overall very clean. A gorgeous looking and sounding Prototype you won't find anywhere else.