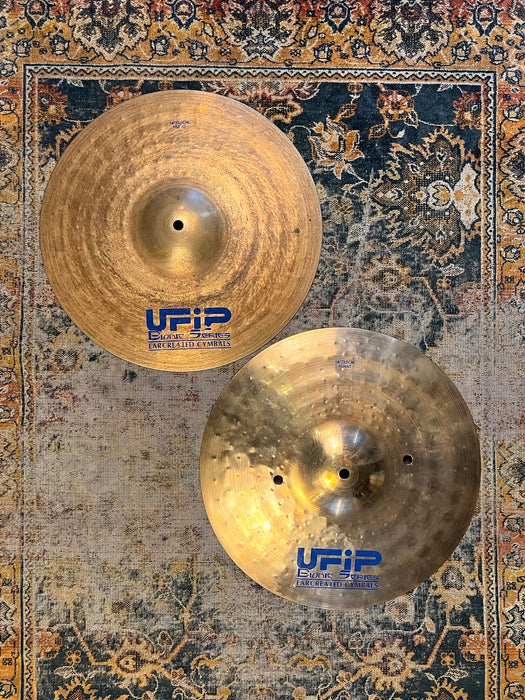 CRISP DRY Deep Hammered UFIP BIONIC Series 14" 1316 1458 Hihats CLEAN DON'T PAY $480
Original price
$269.99
-
Original price
$269.99
Here's a pair of gorgeous cymbals that you don't often find outside of a stock photo.


And they cost $480 new.  Yessir!  But no one need shell out all that fat cash for a guess at a stock photo!  That would suck! 


Listen away to this exact pair!  


And these 14s" are ULTRA DRY and CRISP sounding - rather PAISTE-like, clean but with a pinch more of an organic vibe.


UFIP BIONIC 14" Hihats. I love that blue logo too! 


1316 and 1458 grams ensure an ultra-crisp and cutting attack and chick while they remain quick and dry sounding. The overtones are controlled but they cut something fierce! A bit like Sabian Fierce Hats but actually MORE FIERCE.


UFIP describes these as "Hammered especially deep and wide, then polished to a lustrous golden finish giving these cymbals added warmth richness and tonality."


But again, these particular beauties are DRY and have a lovely rawness to them.


Zildjian Quick Beat styled holes on the bottom cymbal ensure fast CHICK action with your foot. No airlock.


These UFIPs run over $480 new - I'm not kidding.


But no one needs to spend that - and you don't have to sacrifice tone either.


Beautiful light golden patina, no issues, stunning lathing, and deep hammering. Gorgeous Hihats that have no problem cutting through a mix.



And these are not your regular Guitar Center fodder.  Hardly anyone actually has these in stock.