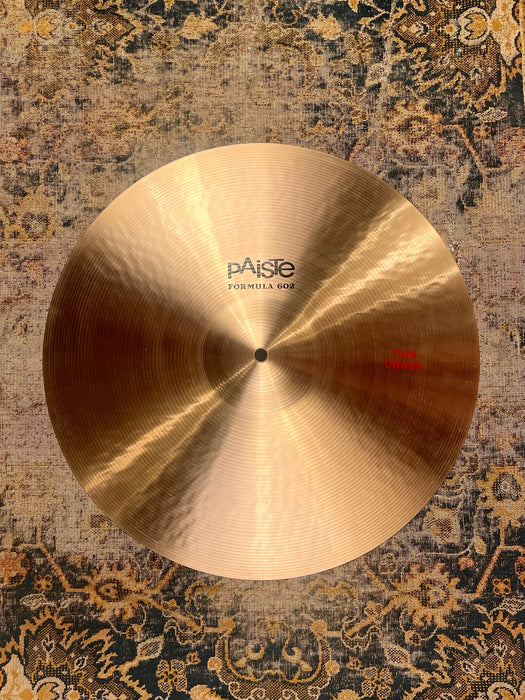 PERFECT Paiste 602 THIN CRASH 18" 1346 g WHY Pay $490?
Original price
$369.99
-
Original price
$369.99
Heaven forfend!!!  $488!  That is how much a new 18" Paiste 602 costs new!  Literally almost $500! Paiste raised their prices again!  


But I can't say it isn't worth it.  602s are one of Paiste's greatest accomplishments. And this 18" is insanely versatile! 


But you need not throw darts and the universe and guess what your next cymbal sounds like! And you don't have to spend $500 either


Check out the IMMACULATE Paiste 602 THIN CRASH 18".  And have a listen to it to do you can buy with confidence. 


Famously crisp, dark and CLEAN sounding!  A perfect fast crash or smaller crash. And this one sounds amazing.  Have a listen!  


1346 grams indeed makes it THIN.  The edges are easily bendable.  


Paiste describes this Crash as:
" Silvery, breathy, transparent. Fairly wide range, slightly complex and dense mix. Soft shimmering and velvety feel. A light crash cymbal with a definite retro character suited for many styles in that music genre."



There you have it! One of the easiest cymbal p

urchases to make. 


Works in any genre! Can easily be a smaller Light Ride with a light touch.  


No issues.  Only played for the video. Perfect.