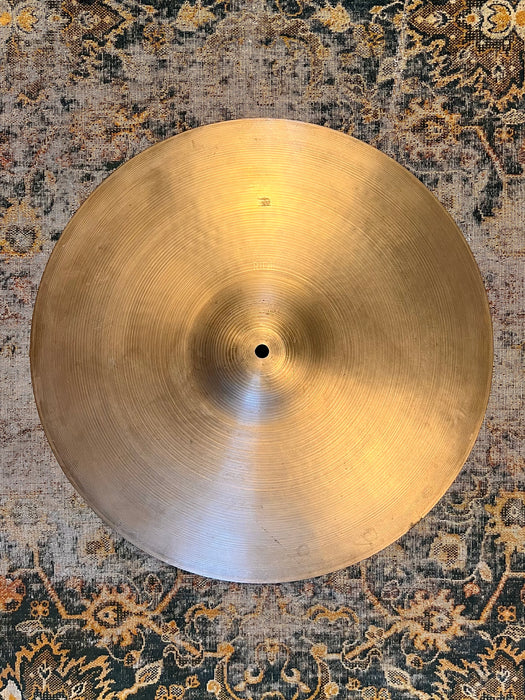 RARE Vintage Zildjian FACTORY STAMPED CRASH RIDE 18" ONLY 1356 g
Original price
$299.99
-
Original price
$299.99
VINTAGE FACTORY STAMPED "CRASH RIDE." Perfect for that BEATLES Crash Ride wash. 


And at only

 

1367 

grams, it's absolutely fantastic sounding.  From the late 1960s or maybe 1970.  


This one has the rare razor thin edges making it remarkably responsive and sing when crashed upon! 


Have a listen! A perfect Vintage Beauty that's full and semi-dark!  Sounds like it was plucked right off at the stage at WOODSTOCK. 
50-year-old semi-complex-sounding THIN Zildjian 18" "CRASH RIDE."


And that's not that easy to find these days - most thinner Zildjians succumbed at the end of a 2B stick inside the Rainbow Room in 1987.  


Edges blur when struck - that's hard to find on a Crash Ride. 


Glorious semi-dark and complex Vintage Crash tone that remains responsive compliments of that

 

1356 

gram weight!


Gorgeous wall-of-white noise RINGO vibe.  
The tone we've heard for generations of rock, pop, and soul. 


Of course, if you have a light touch, you can easily use this 18" as a small Light Ride or a swelling Crash Ride. When you crash ride on it, it unleashes a gorgeous torrent of white noise that has a broad spread.  


Magnificent condition for being a half-century-old Zildjian. Nice patina. Light typical use for a 5 decade old cymbal. 


Factory stamped! 


Vintage As are always in style, and this stamped 18" Crash Ride is exceptionally hard to find these days. 

No need to paw through an ocean of modern Zildjians to find one that kinda-sorta sounds vintage-ish.   





The REAL DEAL right here! From the Golden Era of Rock.