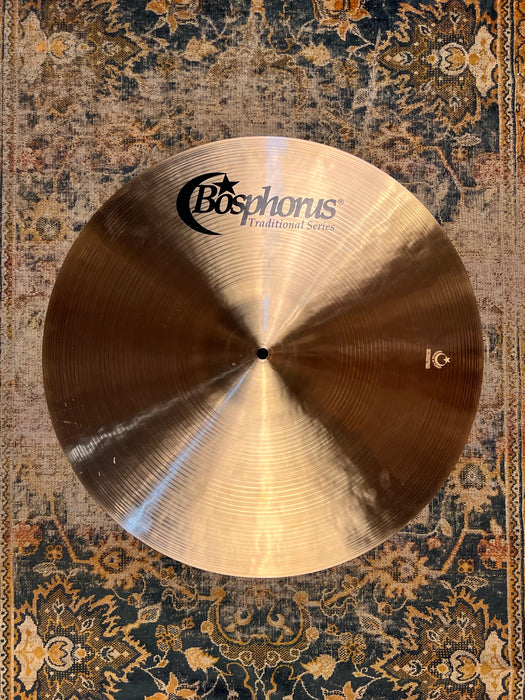 Golden Glassy Bosphorus Traditional 20" CRASH ONLY 1408 g Warm PERFECT
Original price
$299.99
-
Original price
$299.99
This is a very hard to find Bosphorus - the Traditional Factory "Crash" in the Rare and BIG 20" size.


And it's extremely thin - Paper Thin at 1408 grams.  The edges bend with ease and it is incredibly responsive with a golden shimmer.


Hand Hammered Bosphorus Traditional 20" Stamped "CRASH" in immaculate condition.


Fully lathed for maximum warmth with gorgeous Hand Hammering throughout for that famous Old World Turkish complexity.


This particular 20"' Crash has a unique papery, golden shimmer to it.  Have a listen!


With a very LIGHT weight of ONLY 1408 grams this 20" Bosphorus Traditional is easily bendable.


The wash is exactly what you would expect from a Top of the Line Bosphorus - broad spread, warm, organic, great full Turkish tone. AND it is responsive at lower volume settings.


This particular 20" has a strong complexity to it but it still maintains that inimitable CLEAN Bosphorus tone!


Because it plays like a Paper Thin, the wash dissipates fairly quickly, but it still has a glorious warm and full tone for a thinner cymbal!


If you have a light touch this 20" Traditional Crash also makes a great Left Side Light Crash/Ride. And it pleads for rivets if you're so inclined.   


Perfect for very low to medium loud settings.  Beautiful to record.



Immaculate shape and very hard to actually find as a 20" factory Crash  - especially when you can listen to it first.