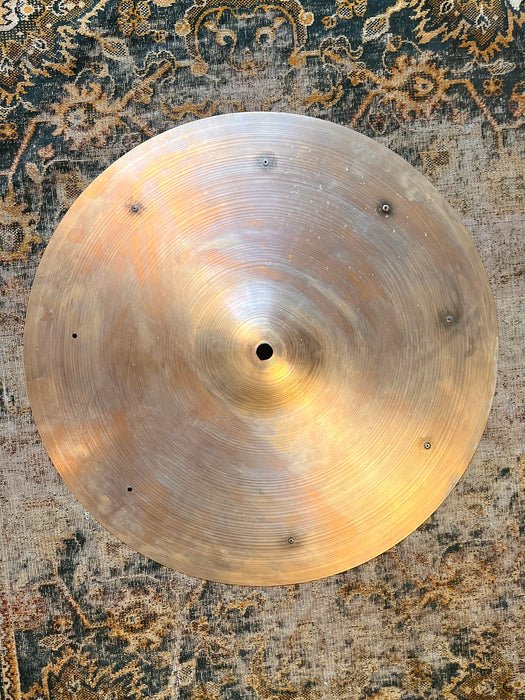 Light Complex 1960s Vintage Light SIZZLE Crash Ride 18" 1413 g Semi-Dry Dark
Original price
$299.99
-
Original price
$299.99
Very LIGHT and COMPLEX with a hint of dryness, HAND HAMMERED Early 1960s Vintage Zildjian 18" Sizzle Crash Ride. 


WITH super OLD SCHOOL rivets still intact and a gorgeous dark patina. Wavy Hand Hammered surface. 


Semi-Dark sounding with a LIGHT and AIRY wash, it's aged and fairly focused when crashed upon - compliments of that 60 year old patina. 


Medium low profile gives it a darker, lower pitch than many 18s". Hand Hammered. 
At 1413 grams this 18" plays like a Thin Light Complex SIZZLE with darker, drier leanings. 


Overall extremely responsive - airy, organic attack. 


Where this 18" really shines is the airy, LIGHT LIVELINESS it brings to a setup. This 18" Sizzle delivers a very warm but mellowed and aged darker SIZZLE tone.


Crashes like a dream! 


Great spread while still having the classy control of an 18" with a great patina. 



It was made over 60 years ago. And it SOUNDS like a cymbal made over 60 years ago. 
Modern Zildjians are great - but they don't do THIS.


No issues. Typical light wear. Smooth surface. 6 decades old. 


Primed for 8 rivets and currently outfitted with 6 super old school rivets.  



Sounds awesome with 6 rivets installed 

- very 1958 vibes.  
Don't spend more on the new faux vintage ones. 



It's cheaper and more fun to play the original.