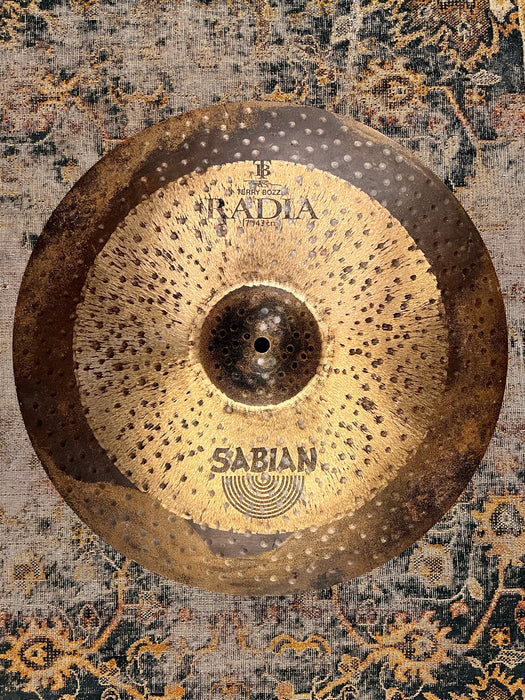 Ultra Rare Sabian RADIA 17" Crash Ride 1441 g TERRY BOZZIO DRY Perfect
Original price
$329.99
-
Original price
$329.99
Here's an exceptionally rare piece - I've never even seen a 17" RADIA before!  And this thing makes a gorgeous Dry Light Ride. Really quick and articulate - Jack DeJohnette vibes.


The Radias are straight up some of the most interesting sounding cymbals Sabian ever made.


Unique tones for a unique voice.  Nothing else captures the dry, complex tones of the Multi Application Radia.


The playing surface had this brushed looking vertical lathing and it's surrounded by a 2" Raw and Hand Hammered Edge with a Raw, Hand Hammered bell.


There's nothing that looks like it, nor sounds like it.


Weighing in at a perfect 1441 grams this unique 17" plays like a dry yet slightly complex sounding Medium Thin to Medium Crash Ride.


As you may know, the Radia line is fabled for its strong attack and great stick definition however they also possess an organic complexity that set the series apart. And this Crash is no exception, The attack is prominent and the ensuing wash is fairly complex however the overtones dissipate quickly, which is nice because this Crash will not muddy up your tone. It strikes and then gets out of the way quickly! The attack is bold but not overbearing, this Radia cuts well but also remains musical.


And if you have a light touch this 17" makes a terrific Fast Dry Light Ride.  I know, I know, I wouldn't believe it either but it is true.


A unique, head turning cymbal that is a lot of fun to explore love and in the studio.


There's nothing out there like this - it's a unique voice!



Extremely rare. Perfect condition. Impossible to find.