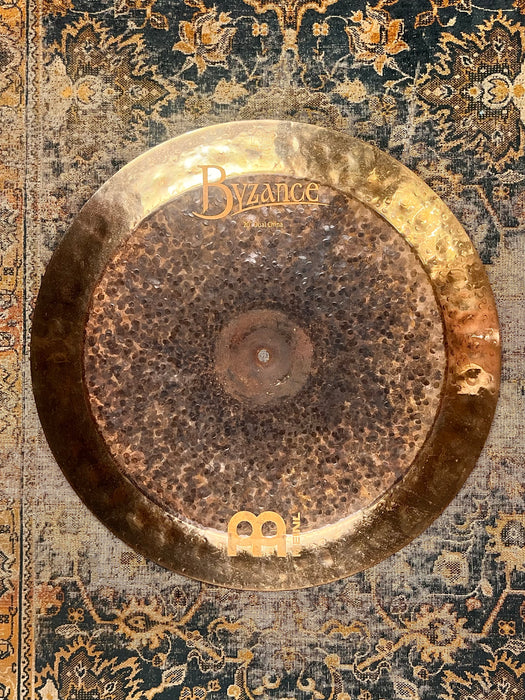 Ultra Complex Meinl BYZANCE DUAL CHINA 20" 1460 g CLEAN WHY PAY $480??
Original price
$299.99
-
Original price
$299.99
$480!!  Damn! This is one of the most expensive China Cymbals there is!


But you need not pay anything near that!  And you don't have to guess at a stock photo.  Have a listen!


Looking for a gorgeous sounding Ultra Complex Dark Exotic China that has that Old School Vintage tone?


Get this!  It's Hand Hammered and had that beautiful Traditional smokiness.


Hybrid Style Meinl Byzance Dual China 20" in Fantastic Condition.  


In a classic Hybrid style cymbal - the top side is fully lathed for a beautiful complexity while the underside has 16" of Turk unlathed and raw craftsmanship with the outer flanged edge a subtle brilliant finish.


Hoooooray!!!  Who doesn't love that story.  


Here's how the Byzance Duo China is described:
"The MEINL Byzance Dual china cymbal combines the shimmering darkness of the Byzance Brilliant series with the low, earthy tones of the Byzance Extra Dry series. This affects cymbal cuts easily with a glassy brilliance, followed by a low, trashy growl. The decay is quicker than other chinas due to the extra-dry interior. Excellent for stacking. Marrying elements from across the Byzance spectrum, the Dual series is a study in contrasts-raw and finished, lathed and unlathed, fierce and grounded. Every cymbal is formed by lathe and hammered by hand. It's a high-end cymbal series for professionals and advanced students."


I think I'm going to cry! Such prose!!


And a wonderfully thin 1460 grams, this Dual China is very dark with a wonderful complexity to it. It has a biting attack that is reminiscent of the Old School effects chinas with a fairly quick decay or is- as promised. Overall traditional sounding with a smoky, organic wash that evaporates quickly.  


It's cuts without clanking. The pitch is fairly low and it comes alive with a light touch.


No issues. Amazing condition with a light golden patina.



No reason to pay $480 for a new one of these.  Literally $480!  You can listen to this exact simple so that you can buy with confidence and save a hell of a lot of money.