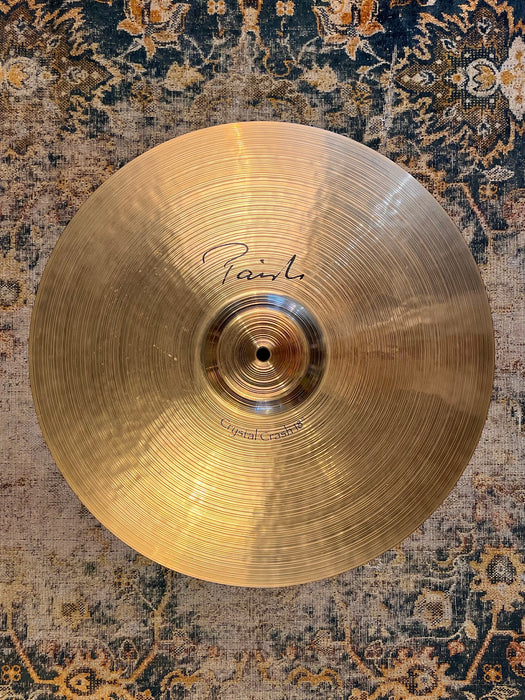 RARE Discontinued Paiste Signature FLAT BELL CRYSTAL CRASH 18" 1487 g CLEAN
Original price
$399.99
-
Original price
$399.99
Does Paiste even MAKE Signatures anymore?


Short answer is yes, but it's not the complete answer. There used to be 30+ Signatures, now there are like 3. And one of the casualties is staring you in the face. Do you have the will to look into the eyes of the dead?


Well if you feel like a Greek Hero prepared for the challenge...


No Longer Made Paiste Signature FLAT BELL Crystal Crash 18" in absolutely glorious condition!  


This gorgeous Paiste was only made for a brief period and it was hard to find even then! I saw it a the NAMM show and that's about it!


And of course the Flat Bell - the famous BELL, indicative of Paste's perpetual dedication to innovation and experimentation.


Paiste described their Crystal Crash as:
"Silky, full, shadowy, somewhat glassy. Fairly wide range, fairly clean mix. Very responsive, somewhat soft and smooth feel with an even fade.
In the main, a medium volume crash with a silky, brilliant and warm character that is still strong enough to persilt in today's Pop and Rock music. Bigger sizes also very well suited for classical applications and mallets rolls."


What a lovely eulogy!


Weighing in at a perfect 1487 grams, this Crystal Crash plays like a beautiful 18" Thin or Medium Thin controlled crash. The tone is fairly DARK for a Signature. And warm. What's fascinating about this Paiste 18" is that it has all the clean and crisp vibe of a Signature 18"  HOWEVER, the wash and overtones are fairly controlled and the sustain is medium fast. Which is a pretty cool trick on a 18" Crash. The result is a Semi-Dark CONTROLLED Fast Crash...of course with that CLEAN, crisp Paste B15 tone. That famous clean sound!!


A very cool cymbal. It gives you a good idea of the warm, lush, euphonic wash when Paste says that this 18" is well suited for class applications and mallet rolls. Killer.


Also the controlled tone makes it an absolutely fantastic controlled Light Ride. The 18" size gives it a quick response while the squared-off bell makes it controlled both in volume and overtones!


A stunning Paiste that hardly anyone has…or even had!


Amazing shape - especially for being 20 years old. Clean sounding and clean looking!



A beautiful choice for playing and collecting. A very rare Paiste.