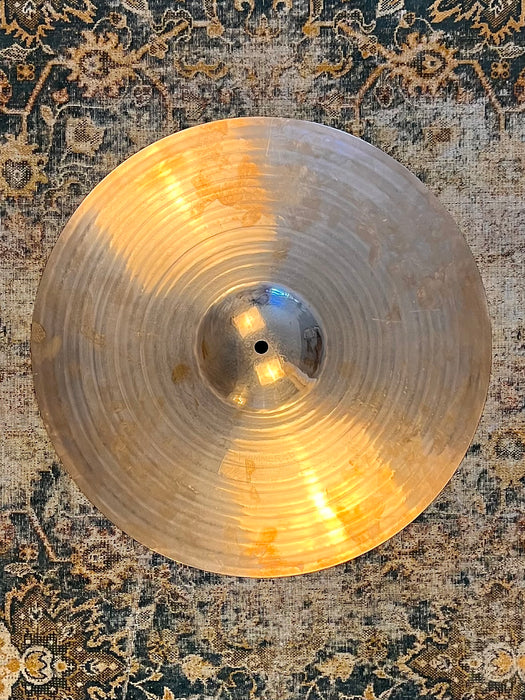 SUPER Rare HAMMERAX ULTRA VIOLET Bright Crash 18" 1497 g 1/2 Brilliant
Original price
$369.99
-
Original price
$369.99
Here's one of the rarest cymbals I've ever owned - I've not seen another.  As many a Cymbalholic knows, HAMMERAX was a custom cymbal maker long before the custom cymbal thing blossomed.  


Unfortunately they have gone the way of the dodo, but not before claiming their thrown in the pantheon of cymbalsmiths.  


They made several different series but all of them custom and unique - and that's what they were famous for then and that's exactly what they're famous for NOW! 


They're very hard to find because collectors have locked them up because there's nothing like them out there.  


Hammerax ULTRA VIOLET 18 Bright Crash. As you can see the top of this 18" is a Brilliant Finish while the underside has a factory blackened treatment.  There's nothing like this cymbal - the top has a very smooth, rippled contour that is unlike anything else you will see. 


The end result is a semi-dark sounding crash that has a glorious shimmer over the top - however it also has this controlled, pre-eq-ed tone to it.  It's clean and controlled but simultaneously FULL sounding.  


This is an absolutely terrific crash cymbal for a studio - it's full and yet still very clean sounding, producer-loving tone.  


Of course it's fantastic for live too - it has no problem cutting at 1497 grams however it has a softness to it.  It's not clanky or harsh.  The edges have a softness to it. 


Very good condition. Light wear on the underside and edge.  Nothing that affects a the tone or longevity.  



Sounds incredible.  Have a listen.  One of the most rare cymbals.  Very collectible.