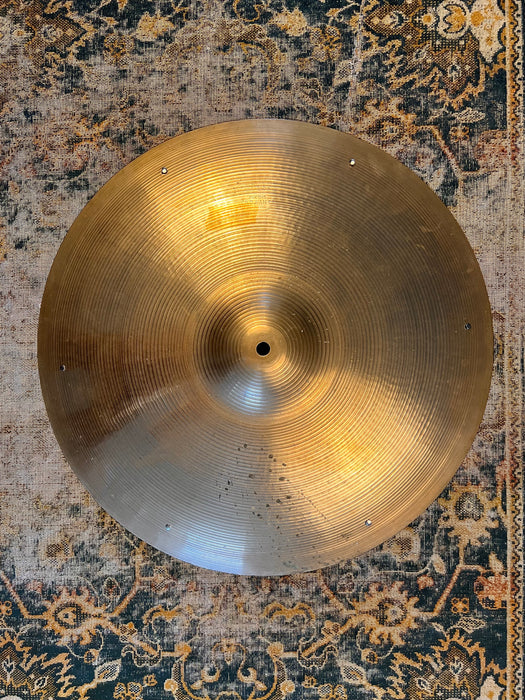 SMOOTH 1960s Vintage Zildjian Hand Hammered 18" Light Ride Sizzle 1549 g ALL 6 RIVETS
Original price
$299.99
-
Original price
$299.99
Very smooth and delicate sounding EARLIER 1960s HAND HAMMERED Vintage Zildjian 18" Sizzle Ride in the Vintage Sizzle configuration. 


Super LIGHT and AIRY sounding with a solid definition and a hint of smokiness. 



1549

 grams makes it play like a Thin to Medium Thin Semi-Dark SIZZLE. 


Absolutely perfect stick attack to wash ratio. 


It's heavy enough to deliver solid stick articulation but has a lightness to it. 


Overall very responsive. 


Where this 18" really shines is the airy, LIGHTNESS it brings to a setup. This 18" Sizzle delivers a warm, slightly complex but mellowed and aged SIZZLE tone.


It was made 60 years ago. And it SOUNDS like a cymbal made over 60 years ago. 
Modern Zildjians are great - but they don't do THIS.


No issues. Amazing shape with a great patina. Hand Hammering throughout.  


Outfitted with ALL 6 rivets in the old school fashion - looks, sounds and plays like it's 1964. 


Add or subtract to your liking but it sounds amazing right where it is.


Don't spend more on the new faux vintage ones. 



It's cheaper and more fun to play the original.