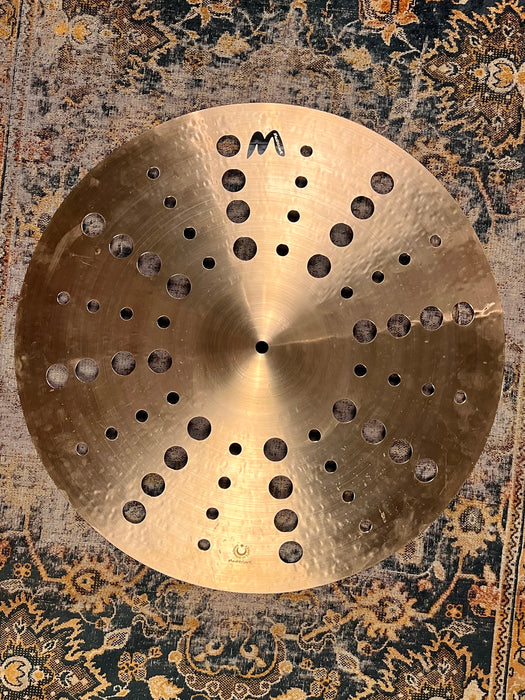 TONS o' HOLES Complex Masterwork TRASH Crash EFFECTS Ride 21" 1567 g MINT
Original price
$299.99
-
Original price
$299.99
Here's a one-off HUGE, ultra complex 21" Hand Hammered Masterwork Jazz Master CRASH EFFECTS RIDE that is rife with HOLES - and Lathed! 


And it's doesn't costs $500 like the Zildjian does. Not even close! 


Take a Zildjian K Custom Special Dry Trash Crash, and now fully lathe it like a Traditional to give it a bit more fullness and body. 


Golden lathed and heavily Hand Hammered


Perfect Crash or Light Ride in a large 21" size. This 21" makes an amazing alternate ride cymbal!  Lower volumes and complex.  But can roar when laid in to. 
Weighing in at Paper Thin 1567 grams, this 21" is exceptionally responsive and comes to life with even the slightest swipe. Lay into it for an explosive crash but it doesn't go above medium to medium loud.


One of the more responsive larger cymbals you will find. Great for brushes or even hand percussion.   


A factory constellation of holes gives this Traditional Prototype its nasty, trashy, Effects-like tone.  


What's interesting is that it has a few toes in the low - volumes style cymbals - it's responsive and opens very quickly! 


It projects quite well - but can stay in very low to medium settings as well.   


Great trashy crash effects or alternate Light Trash Ride.  When riding on it it emits light, complex glow.  


Perfect as a large stacker or effects cymbal too. A true crash or EFFECTS. 


Experiment. Explore. Because you can't find this cymbal around, this is a one-off in a 21" size. 


Immaculate condition.