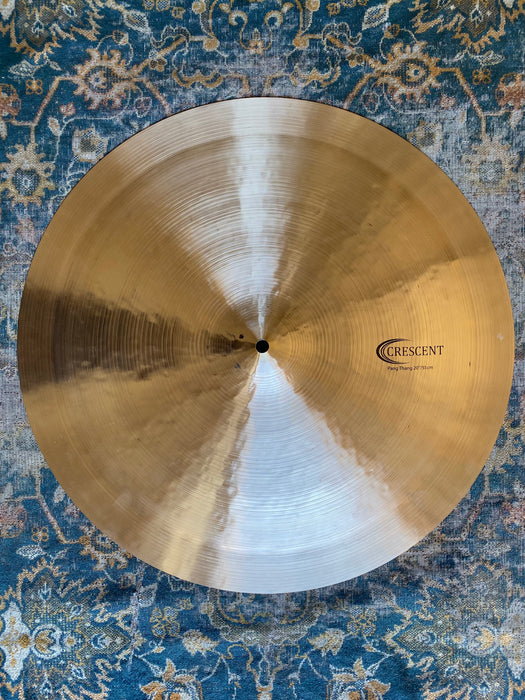 PAPERTHIN Sabian CRESCENT PANG THANG 20" China 1629 g Stanton Moore IMMACULATE
Original price
$369.99
-
Original price
$369.99
This is a fascinating cymbal: what began as a Bosphorus, then became Crescent, then became Sabian Crescent, and now, of course, Stanton Moore plays Zildjian - which leaves this PANG THANG in a bizarre purgatory.


The funny thing is that this is one of Sabian's nicest cymbals and should not be lost just because the marketing was.


And this one is THIN to PAPERTHIN and very COMPLEX. 



It's immaculate and has Stanton Moore's signature under the bell. 
Fully lathed Traditional finish on top with a classic subtle PANG edge flange and a smaller rounded over bell for a mellowness when riding. 


Alternating brown and gold lathing on the underside gives it a bit of dry, organic tone and control. 



At ONLY 

1629

 grams it's very thin and extremely responsive with a ultra-warm and complex glowing tone. 


Very old-school tone.


This 20" plays like an Ultra Complex thin PANG from the 1950s.  It has a broad spread and is so responsive it can easily be used with hand percussion - a stroke from your finger sets it off rumbling.


Absolutely fantastic alternate riding capabilities - extremely mellow with that classic, vintage exotic tone. Can go from a whisper to a roar! 


Immaculate condition. No issues.  Only been played for the video.


And these are very hard to find outside a google stock photo.



I'm not even sure Sabian makes them anymore.