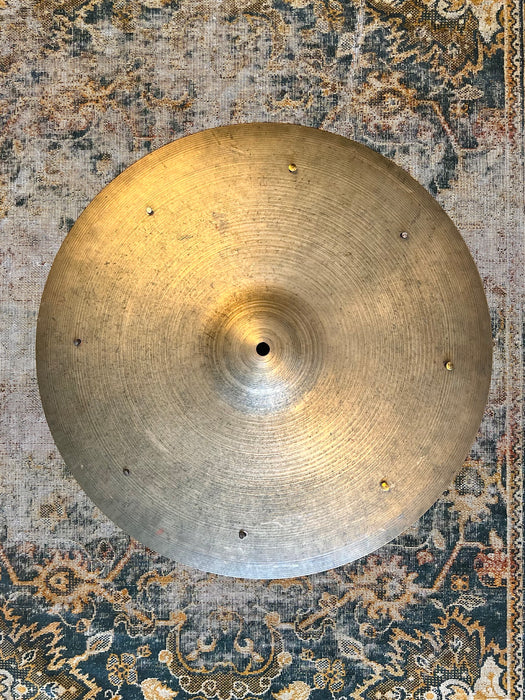 1950s VINTAGE Zildjian 18" Light Complex Crash Ride SIZZLE 1633 g ALL 8 Rivets
Original price
$349.99
-
Original price
$349.99
This is a stunning HAND HAMMERED Vintage Zildjian.  It's very light and airy with a lively complexity that floats around like its 1958…because that's when this cymbal was forged. 


Think about that a minute. This Zildjian was made when Miles Davis was recording "Kind of Blue." 


This 70 year old Zildjian Sizzle destroys the modern Zildjian Beautiful Baby. 
Very light and delicate sounding 1950s HAND HAMMERED Vintage Zildjian 18" Light Sizzle Crash Ride. 



Primed for 8 rivets and currently outfitted with ALL 8 like its Art Blakey in 1958. 

Super LIGHT and AIRY sounding with a hint of smokiness. 5 vintage old time rivets with 3 brass ones for a warm tone. 


At 1633 grams it plays like a Medium Thin Complex Light SIZZLE that's easily crashable!  It has an enough tension and weight to ride well. And it's mellowed 60+ years so the attack comes out stronger. 


Overall very responsive. Great stick attack for an 8 rivet sizzle. Really nice dry articulation for a Sizzle. 


Where this 18" really shines is the airy, LIGHTNESS it brings to a setup. This 18" Sizzle delivers a warm, very complex but mellowed and semi-dry aged SIZZLE tone.


Great spread while still having the classy control of an 18".  Overall a pinch smoky for a Vintage 18" A. 



It was made over 60+ years ago. And it SOUNDS like a cymbal made over 60 years ago. 
Modern Zildjians are great - but they don't do THIS.


Great shape.  Light use.  No issues. Terrific 6 decade old golden patina. 


Don't spend more on the new faux vintage ones. 


Just get the Original - the Zildjian that's actually Hand Hammered. Imagine that!