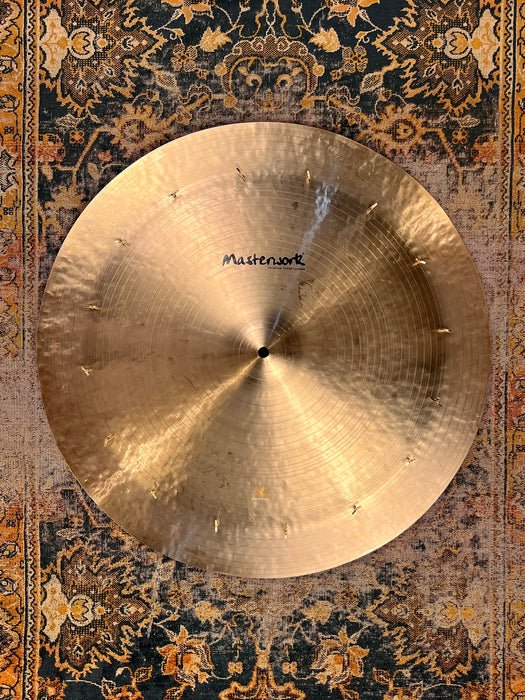 ALL 18 RIVETS Masterwork Jazz Master SWISH KNOCKER 22" China 1750 g
Original price
$299.99
-
Original price
$299.99
If you like the old-school Vintage-vibe Chinas and Swishes and Swish Knockers from the 1940s and 1950s then this BIG Hand Hammered 22" will have you beaming!


ALL FACTORY 18 RIVETS INTACT. 
Massive Masterwork Paper Thin fully lathed Jazz Master Traditional 22" China SWISH KNOCKER weighing a glorious and responsive paper thin 1750 grams. 


Fully lathed in the old school Istanbul K styled wide lathing, beautifully Hand Hammered throughout. 


Outfitted with all 18 factory rivets for a super Vintage Knocker tone - for riding or "knocking."  


Glowing warm, dark, organic, complex, opens very quickly for a big 22", extremely responsive at lower volume settings but has no problem cutting - it has a biting quick attack. 


Overall quick decay - you can adjust however many rivets you want in.  


This particular 22" really has a broad dynamic range!  It cuts incredibly well and has an incisive attack but also opens up with just a whisper. With all those rivets it comes alive with a light flick of your thumb. 


Glorious as an alternate Ride Knocker - a la Mel Lewis. It knocks! 


Perfect Condition. No issues. 


 Versatile. 



No big company offers a gorgeous 22" like this! The 

Zildjian is twice as heavy.