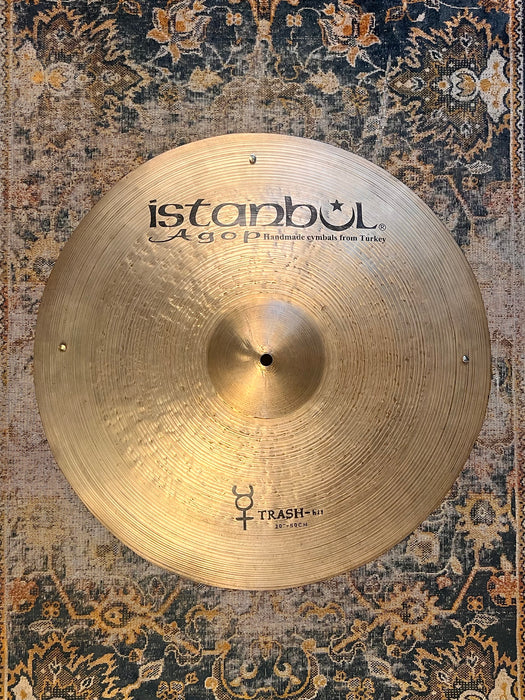 Super COMPLEX Istanbul AGOP TRASH HIT 20" SIZZLE 1779 g DARK PANG
Original price
$329.99
-
Original price
$329.99
Here's a dark and complex gorgeous effects crash/alternate ride.  And you can actually hear the exact cymbal.  No guessing at stock photos! These are pretty hard to find actually out in the wild - especially where you can hear it. 


As you may know, the famous AGOP TRASH HIT is the bastard child of a menage-a-trois between a Crash, China, and a PANG.  


Isle of Doctor Moreau type vibe that's beautiful!  The edges are wavy - like a Crash Of Doom and that is how it came from the factory.   


Weighing in at a featherweight 1779 grams this 20" plays like a ULTRA COMPLEX Dark Crash/China/Pang Cymbal but this one is darker THAN MOST. The spread on this thing is   H     U     G     E  


The overall tone is very dark, trashy, and wonderfully organic. But again, this beauty is EASY to RIDE ON! Especially with those glorious 3 brass rivets. 


This Hand Hammered AGOP makes a Zildjian Dark Crash sound like a Z Ride. This cymbal is THAT COMPLEX! An ocean of overtones swimming about on this 20" Sizzle. 


Mellow too!! 


And I am happy to report, that at 1779 grams, this cymbal is remarkably responsive....even at the lowest volume level.


You can play this cymbal with just your fingers and still get it to open up.


Perfect for absolutely any style!! 


Clean.  No issues.  A beauty!  Listen away! Buy with confidence!