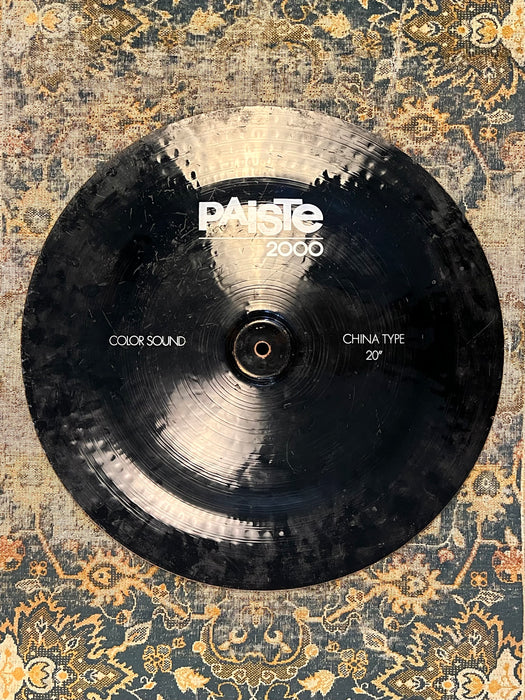 ORIGINAL Paiste 2000 COLORSOUND CHINA 20" 1788 g Bozzio
Original price
$259.99
-
Original price
$259.99
Here's an iconic Paiste that's seldom seen today! These 2000s are nothing like the newer 900 beginner series. These are much different.  


Terry Bozzio. Scott Rockenfield (of Queensryche.) These Original Colorsounds made quite a statement when they debuted in the early 1980s! It was the golden years of MTV -  an auspicious time for visual panache!  


However these Original 2000s were not JUST eye candy.  The Colosounds SOUND much different than the standard Paiste 2002.  


And yes!  It's the ink!  The color treatment dries the cymbal out quite a bit - and that's a beautiful thing when striking a 20" Paiste China!  


The attack is much more pronounced and the decay quicker. It has a tone that is closer to an ACTUAL traditional China Cymbal - it hits and quits.  


Amazing for accents and punches were you really and to accentuate and cut through with a strike.


But at only 1788 grams, this Colorsound 2000 is on the thinner side.  It's not brutish or overbearing. And it's not just for rock.


The most surprising sonic aspect of this Paiste 2000 Colorsound China 20" is that it actually can sound quite mellow and beautifully when rolled on with mallets or played at moderate volumes.  


Very dark. DRY. Lower pitched. Very exotic and pang - like but with the overtones in the lower and more mellow register.  


And absolutely gorgeous sounding china that cuts a mix beautifully but can surprise the ears with its mellow leanings!


Great shape.  Typical stick marks. The BLACK COLOR treatment is strong and bold - especially for being well over 30 years old.  



Great shape.  No issues.  Sounds incredible.  Hard to find.  ICONIC Paiste.