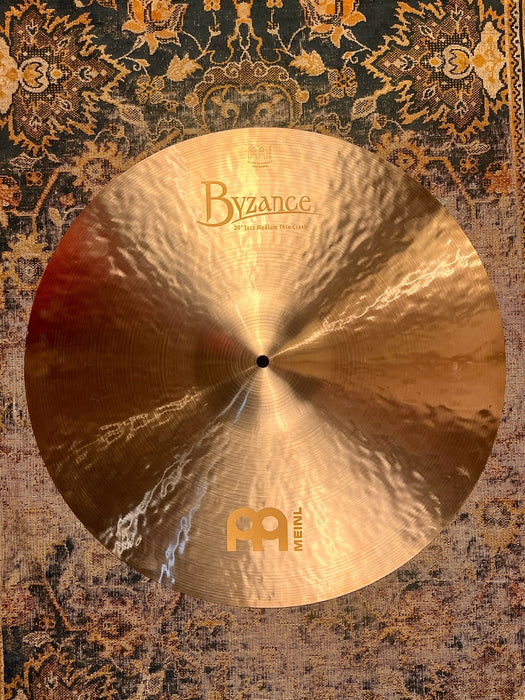 PERFECT In BAG Dark Complex Meinl BYZANCE Jazz Medium Thin Crash 20" g 1824 g LIGHT RIDE
Original price
$359.99
-
Original price
$359.99
No need to pay full pop on a guess on a stock photo Meinl! Listen away so that you can buy with confidence.  
Meinl has made a cannonball-ed-sized splash in the cymbal world with their Byzance Series and crash cymbals like this one are the reason why. They also like this cymbal too considering they charge nearly $500 for this beauty new.  


Meinl BYZANCE Jazz Medium Thin Crash in a generous 20" size and in IMMACULATE Condition in the bag.   


Weighing only 1824 grams this 20" is indeed THIN - but it still has quite the ability to cut - it's very complex and full sounding! And it makes a hell of a beautiful 20" LIGHT COMPLEX RIDE. 


And it's dark and complex nature makes it a natural choice for jazz.  But as Meinl promises, its not just reserved for that genre.  


Meinl describes this Jazz Thin Crash as:
" Delicate and musical Jazz cymbal. Fast and explosive with a warm, low-pitched sound. Complex frequency range with a smooth decay. Suitable as a light ride."


And that is all accurate. However I would add that this being the larger 20" version it has a great rich, fullness to it. 


Dark. Very complex but anchored in the medium low pitched frequencies. Responsive but still full enough to project when you really lay into the edge.


Razor sharp edges.  Medium low profile. 


Can easily be used as a Light Complex Ride.


Immaculate and only played for the video.