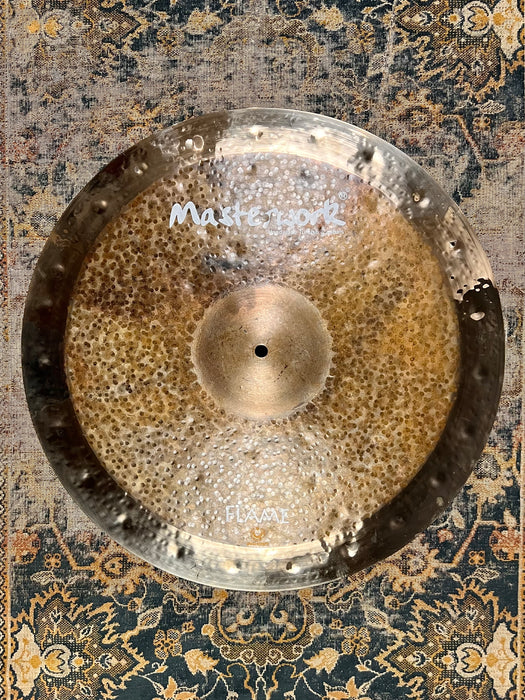 DARK COMPLEX Hand Hammered Masterwork 21" DUAL Paper Thin Crash Ride 1840 g
Original price
$269.99
-
Original price
$269.99
Here's a beautiful sounding Hand Hammered Paper Thin 21" that sounds absolutely phenomenal.


I marvel at the handiwork and beautiful craftsmanship. Stunning dual surface. 


Have a listen yourself.  And this one doesn't cost $560 like the one Meinl does.  
Imagine a Zildjian Crash of Doom...but one that really IS Hand Hammered and has a pinch of Brilliant Finish shimmer.  And in a 21" Size with a RAW BELL. 


Viola! 


That's the vibe of this hand-crafted 21" Masterwork DUAL Paper Thin Crash Ride. Super deep, golf-ball sized hammering on plain and edges for a beautiful complexity.  Similar hammering to the K Custom Special Dry 21". 


Huge, ultra-dark, very complex sounding, Crash that you can ride on as well. It's extremely responsive and opens up with the lightest touch. 



Similar to the Meinl Byzance 

EXTRA DRY DUAL Crash - that's the vibe.  


Only 1840 grams makes this beauty Thin to Paperthin and extremely responsive, but it absolutely roars when you lay into it! 


As you can see the inside 17" are unlathed like a Turk Series, and the outer 4" are fully pin-point lathed and BRILLIANT Finish. 


Beautiful hand-hammering both on the unlathed surface and off, and the edges blur subtly when struck. 


When you ride on it lightly, it falls right between a Light Dark Complex Ride and a China Swish. Perfect for an alternate Light Crash Ride. 


Immaculate condition. No issues. 


A stunning Hand Hammered 21" for a fraction of what other companies cost. 



And you can hear it for yourself!