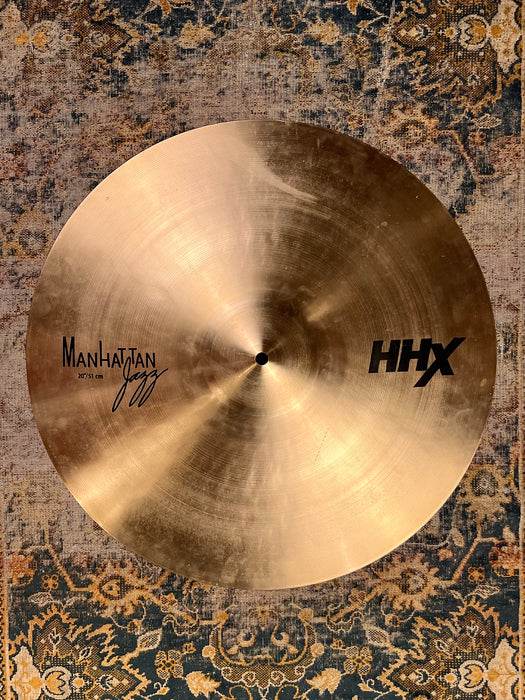 Very SMOOTH Focused Sabian HHX 20" MANHATTAN Ride 1845 g Super CLEAN
Original price
$339.99
-
Original price
$339.99
At 1845 grams this 20" HHX beauty has an incredibly smooth stick attack - especially for this series.  It's warm but also very focused for the HHX Manhattan. Very, very smooth and glowing and incredibly clean! 


Flagship Sabian that's damn hard to find these days. Maybe you could special order it…that is if the Sabian Custom shop was even open. But it's not   And it would be north of $600. 
No need to go through all that nonsense and then GUESS what the cymbal sounds like.  Have a listen to this one and know what the cymbal sounds like.  


And this 20" is one of the smoothest sounding cymbals Sabian made - especially for the HHX series. 


1845 grams. 

Beautiful blurry edges when played! Light and crashable but with a great stick articulation - especially for a thin cymbal. 


This 20" has all the hallmark Hand Hammering of Sabian's top of the line HHX Manhattan - back when Sabian was not just naming things "Medium" or "Heavy" but was creative with their series.


Light and airy but not overly complex sounding.  Focused with a sweet, warm definition. 


Incredibly responsive glowing stick attack. Ultra warm and mellow and in amazing condition. 


Easily crashable. Easily rideable with a subtle liveliness to it. 


A true Light Warm 20" that's mellow. 


Light Main Ride. Mellow Left Side Ride. BIG crash. This HHX 20" can occupy a lot of positions on the kit.



No issues. Extremely clean! Played for the video and that's about it!