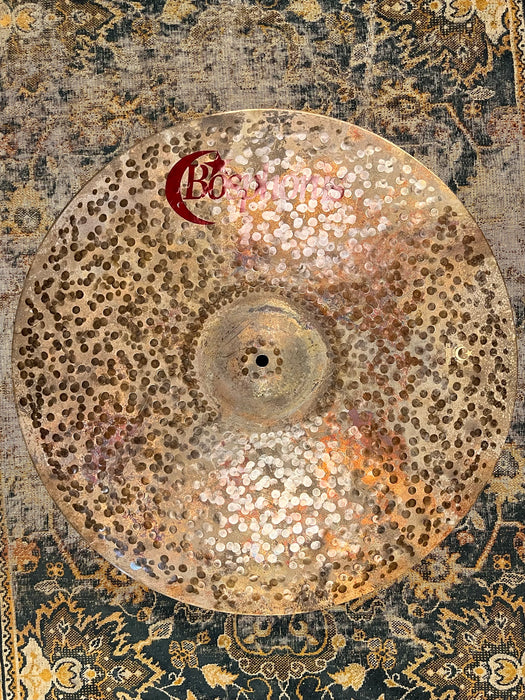 TURK OF DOOM Dark Complex Bosphorus Prototype RAW 21" THIN CRASH RIDE 1920 g
Original price
$369.99
-
Original price
$369.99
The elusive TURK OF DOOM PROTOTYPE!! And in a 21"!   This is one of the coolest complex cymbals out there! 


Take a look at the pictures of this beauty - it's an unlathed, Hand Hammered RAW 21" Prototype with a beautiful golden, sienna, copper, hue.


This one-of-a-kind stunning Bosphorus makes a Crash of Doom sound like a pleasant day!


It has one foot in Turk Series and one foot in raw BLANK!


The tone is ultra-dark and super complex. It has no problem cutting. Very broad dynamic range on this unique 21". 


At a perfect 1920 grams this Prototype is a standout alternate Dry Ride or massive complex 21" Crash or Crash Effects.


When you ride on it, it's surprisingly dry, but still very musical. The 1920 gram weight ensures a terrific stick attack. 


Edges are easily bendable.  It's THIN!


This particular 21" has an incredibly broad dynamic range - sings from a whisper to a roar.


Opens up with the slightest touch. Explosive when crashed upon. 
Unlathed.  Hand Hammered. Organic. Easily bendable. Super dark and complex. Earthy  Dry. Medium quick decay. DOOM ish. 


Immaculate. Looks like it's 2000 years old. 


Nothing like this 21" RED LABEL and Copper Hue Prototype out there!