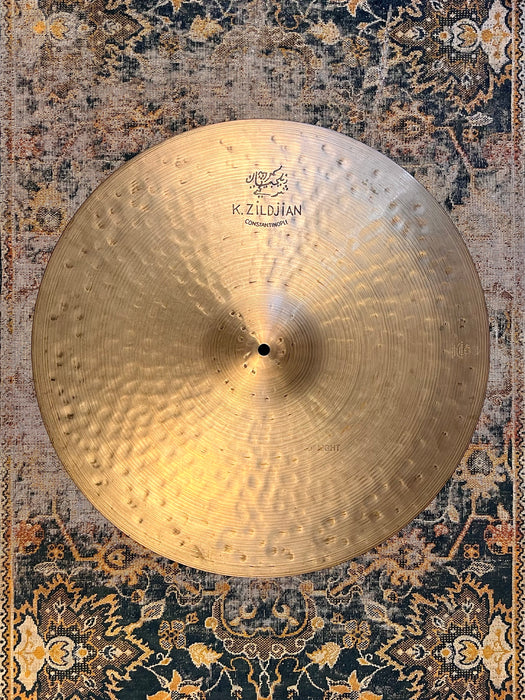 Rare 1st RUN 23 YR OLD Zildjian K Constantinople 20" LIGHT Ride 1961 g DRY CLEAN
Original price
$499.99
-
Original price
$499.99
Well here's a collectible Zildjian! This 20" is from the now-famous Zildjian K Constantinople's FIRST FEE YEARS - the Original "LIGHT". 


It's 23 years old and wonderfully CLEAN! Strong logos.  Armand Zildjian emblazoned logo on the underside. 


And a 23-year-aged thin K Constantinople 20" LIGHT is a damn nice cymbal!  Hell it's almost "vintage" by now.  


This is the DRIEST one of these I've ever heard!


Weighing in at an eponymously LIGHT 

1961

 grams, this 1st Run K Cons is aptly named.



This ORIGINAL 20" does it all - great stick attack - especially on this one - compliments of that 23 year aged mellowing.  The metal has aged and settled in beautifully.  It's DARK 

sounding and low pitched, it sounds vintage because mostly halfway there. 


Being a thin LIGHT, it has a subtle complexity that is simply gorgeous - much mellower than the newer Renaissance and Bounces rides that have yet to settle. 


This is the K Cons Thin LOW before there was a Thin Low.


At

 

1961

 

grams this Original K Constantinople Light is incredibly crashable. It's hammered all the way out to the edge like these early ones were - rippled plain.  Telltale early K Constantinople look. Very dark tone. 


Main Ride. Light DARK DRY Ride. Left Side Crash Ride  - whatever you decide this 23-year-old Original K Constantinople LIGHT 20" is one of the nicest modern Zildjians you will come across….becoming less modern with each passing day.


Why buy the stiff new one for even MORE money and then wait decades for it to chill?!! This one is very rare, sounds incredible and definitely clean and collectible.