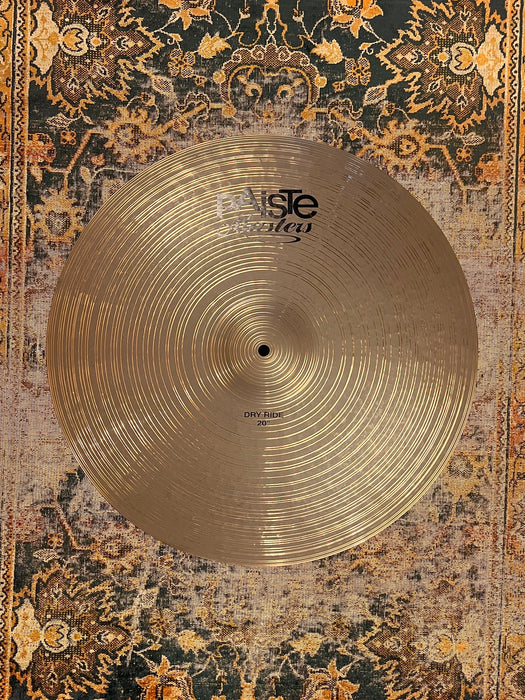 PERFECT PAISTE MASTERS DRY RIDE 20" 2034 g CLEAN DRY
Original price
$379.99
-
Original price
$379.99
Wow! Paiste made a DRY Ride. 


Like they actually made a cymbal that's DRY. 


For real this time. 


It's dry. 


And they actually raised their damn prices again! But you don't need to spend all that money on a stock photo guess. Hardly anyone even has this in stock where you can hear it. 


But you always can here!


Amazing Condition Paiste Masters DRY RIDE 20" weighing a surprisingly THIN 2034 Grams. 


Paiste has accomplished quite a feat - this is a fairly Light cymbal…but DAMN, that stick attack really is DRY. 


That's not so easy to do.  But here we are. 


Paiste describes this cymbal as:
"The 20" Dry Rides are easily controlled cymbals with short harmonic decay that always stays articulated even with delicate, fast figures. The rapidly responsive stick sound is supported by a dry, dark, warm wash. The matted shimmer of the darkish surface suitably expresses the charismatic sound of these cymbals with a corresponding look.
They have a dark, dry, deep sound with a medium-wide range and complex mix. They have a fairly soft feel and are controllable. The pronounced, warm ping over dry, deep wash is extremely versatile. They're crisp ride cymbals for articulated playing in a variety of musical situations."


Sounds like a celebration!!!   


Dry. Fairly dark. Fantastic stick articulation. Extremely responsive. Quick decay. Thinner weight for a Dry Cymbal. 


Larger 20" size. 


Great for very low to medium loud volumes. 


Amazing condition! No issues. Played for the video. 


Don't spend more on a stock photo and a guess.