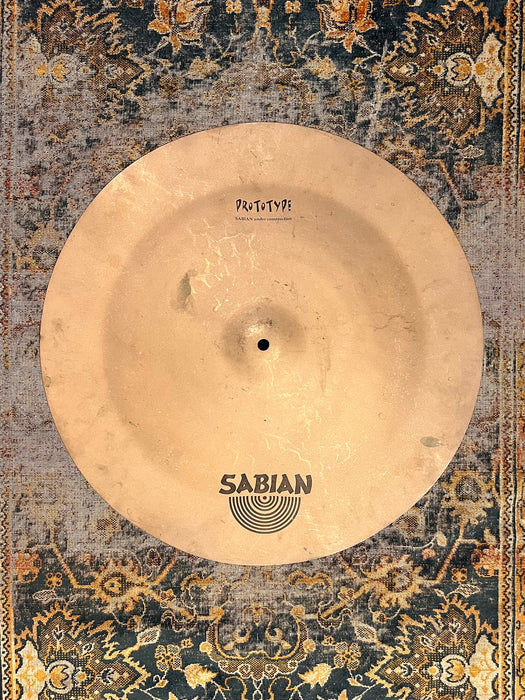 UNIQUE JACK DEJOHNETTE Sabian PROTOTYPE Encore PANG CHINA 20" 2093 g
Original price
$399.99
-
Original price
$399.99
I have only seen one other of these. That's it! 


A Sabian Encore Jack DeJohnette 20" Pang China Swish! 


Outside of Jack DeJohnette, you'll most likely be the only one who has one of these!! 


Prototype. DRY PANG style China. 
In addition to a lifetime of beautiful music Jack DeJohnette has also given us inspired cymbals - and this Encore One-off Prototype takes the cake! 


Factory pre-aged Encore Finish. 


Beautiful Encore hammering, earthen patina, earthen tone.



Unlathed. Hammered. With that instantly recognizable sand-blasted Encore DRY finish.  
And check out the profile edge! I'll be damned! It's a PANG!  


High profile with a FAT flattened edge. 


And yes it has that exotic PANG tone. 


2093 grams gives it a fantastic Medium Thin to Medium constitution.  


There's nothing like this DeJohnette Prototype out there. 


Dry. Dark. Exotic. Dry.  Incredible stick definition for riding. Cutting attack on the edge. Responsive yet capable at loud settings. Dry.  


And DRY.  


Also…it's a Dry Pang.  I can't recall ever seeing anything like this beauty anywhere. 


Perfect as a China.  Effect.  Alternate ride. Or all around Jack DeJohnetting. 


Pre Aged finish. Great shape.  Like all of the Original DeJohnette chinas the edge is wavy - that's how they all look. Strong logos.  Clean. 



Nothing like it.