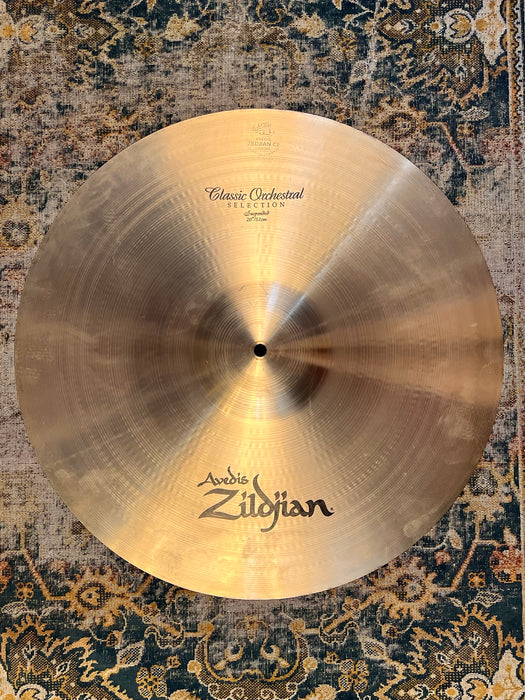 DARK Zildjian Orchestral Selection SUSPENDED Crash Ride 20" 2144 g CLEAN
Original price
$279.99
-
Original price
$279.99
If you like DARK and LOW and versatile, then get this hard to find 20" Suspended Zildjian! It's clean and it damn near does it all!


I love orchestral cymbals. Partially because they usually release gorgeous, glowing, warm sustains...


...but more specifically because so many drummers cringe at the sight of them.


With one glance of a "Suspended cymbal" or "Viennese" faces contort, locked into death masks of fear, unrequited love, marathon bus rides where effluviums reproduce by the mile...


...failed auditions, sudden and horrific voice changes signifying the descent into puberty...then madness.


High School Band.


And so I can drudge up those feelings of insecurity once again by offering up this terrific sounding DARK and LOW pitched Zildjian CLASSIC ORCHESTRAL SELECTION SUSPENDED 20" Crash Ride Multi Application Cymbal in fantastic condition.


Beautiful wash and glowing dark and full sustain with this 20". I mean hell, they made it for the orchestra not for little Tyler's garage band down the street. 


Weighing in at a lovely 2144 grams, this 20" plays like a great Thin to Medium Thin DARK Crash or mellow, LOW PITCHED K DARK RIDE. 


It's applications are not limited to the Orchestral world. You can use this 20" for Rock, pop, funk, session work, whatever your heart's delight. 


And when I say dark, I mean DARKER than a K Custom Dark Ride! Yes, it's darker than that.


Deep and focused, light chime-like definition when you ride on it.  Warm and very full crash when struck at the shoulder. 


Generous rounded over bell that cuts extremely well for a dark cymbal and gives it crash-like qualities.


Low profile for a dark and low pitched tone and lush cymbal swells. 


No issues. Very light use/surface wear. As you can see it's pretty damn clean. 


Can cover a lot of bases around the drum set and you never find these!  It's incredibly versatile!