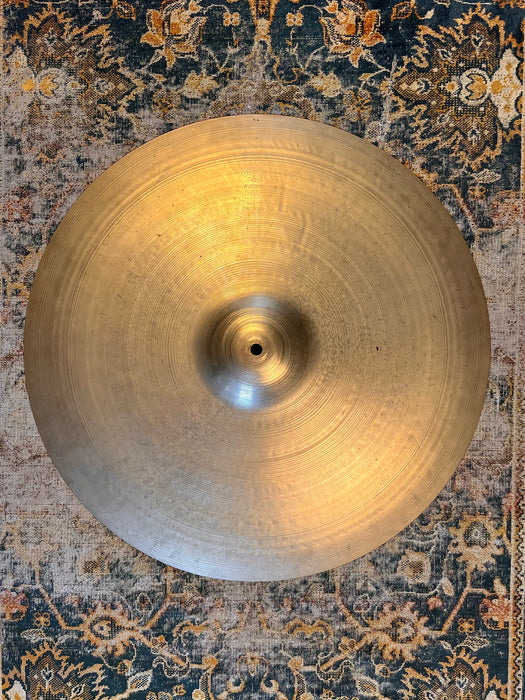 Semi-DRY 1950s Vintage ZILDJIAN BLOCK STAMP Warm Ride 2198 g
Original price
$439.99
-
Original price
$439.99
Along with the Trans Stamps, the 1950s BLOCK STAMP Logo is my favorite era of Zildjian.


It's their gilded age.  There's something about the metal from that era. It's soft and buttery.


And that's exactly the case with this particular glowing 20" 7 decade old Zildjian.


A perfectly balanced 2198 grams outs it in the Goldilocks zone of great stick attack with that dark, buttery Hand Hammered golden wash. 


Plays like the perfect Light to Medium Light Ride - great weight for definition but the metal is still soft enough to crash upon.  


The 70-year-old dark golden patina has aged and mellows this 20" out magnificently.


Pronounced and articulate semi-dry stick attack that is followed by a wonderful glowing but controlled, Block Stamp warm wash.


Dark ROAR with mallets and crashed upon. 


This is a spectacular Vintage Zildjian. An incredible Light Ride or Crash Ride. 


Absolutely fantastic condition! No issues.  Stunning. 


Don't pay more money for a "Vintage Vibe" Zildjian.



It's a lot more fun to just play the original 70 year old one that's actually Hand Hammered.