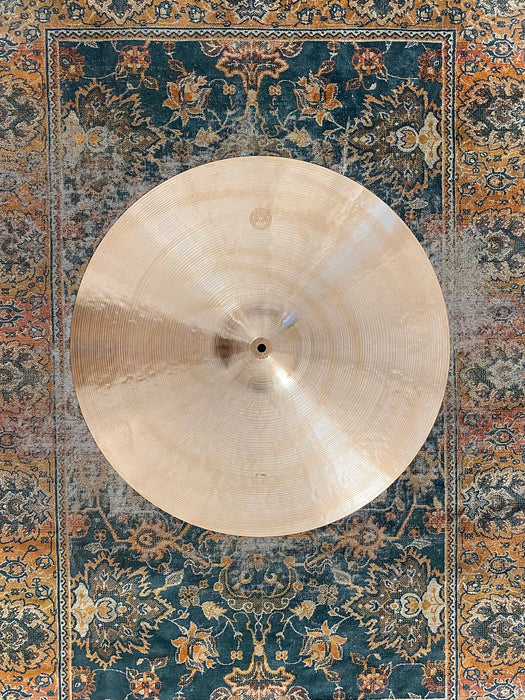 Unique Custom Borba Warm Dark Complex Thin Ride 22" 2198 g PERFECT
Original price
$599.99
-
Original price
$599.99
What I love about these Borba cymbals is that they unapologetically know who they are - it's clear they're handmade by one guy with a purpose and vision in mind. 
I have had the pleasure of coming across a few of these Borba cymbals and they absolutely blow me away. Both visually and sonically. 


Imagine a Paiste Etched Logo Traditional 22" Light Ride that spent 15 years serving hard time in the federal pen.


It has a the dark, woody warmth of the Paiste Traditional but also has the organic, complex real-ness of someone who has Hand Hammered this instrument to perfection.  


This specific 22" is without a doubt, one of the darker, more complex cymbals you will come across. 



Although it has a broad spread

, it also has an even decay and wash - it's not ultra trashy.  It has a very smooth finish to it. 


One thing I love about this particular Borba is that it's factory stamped "2086" grams, but I was told by the man himself that his scale was off when he weighed it. And it was! It's actually 2198 grams. 
Beautifully sculpted, rounded-over bell that is very heavily hand-hammered, the edges wobble when struck. 


Low profile for a deep, lower pitch and darkness. 


Razor fine edges wobble all over and make this 22" crash like a dream. 


Perfect for very low to medium low settings. Incredible under the mic. Comes alive at a whisper. 


Immaculate condition, but it feels like it's 70 years old. 


K Constantinoples sound great, but it's really a joy to play a completely handcrafted instrument - something that celebrates the one-cymbal-at-a-time philosophy.