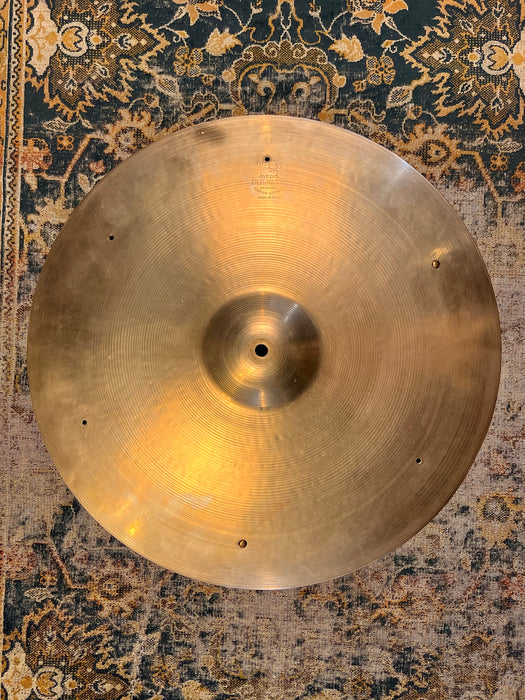 COMPLEX 1950s Block Stamp Vintage Zildjian 20" LIGHT RIDE SIZZLE 2266 g
Original price
$439.99
-
Original price
$439.99
Well, you can't ask much more from a cymbal than this:


Dark, ultra buttery smooth, super warm with a Hand Hammered complexity and terrific woody stick definition but simultaneously solid 5.5" bell that cuts magnificently but is not brutish. 


Absolutely gorgeous - this is the tone that made Zildjian famous! 


A strike at the edge delivers a billowing, BIG DARK CRASH that is magnificent and sounds like no modern Zildjian. 


This is a 1950s Vintage Zildjian BLOCK STAMP 20"and it's a perfect mix of smooth and complex with character.  


Along with the 1940s Trans Stamps the Block Stamp Zildjian is my favorite era of Zildjian. The metal is different from this era. It's softer and more buttery. 


Forged when "Clifford Brown and Max Roach" was a new recording. That's inspiring to play.


Telltale golden era Zildjian Hand Hammering and bell mellowed golden brown 6-decade old patina. Dark and brooding.


This is the cymbal all these companies keep striving to be.  But this 20" just is.



At a perfect 2266

 grams this beauty inhabits the Goldilocks zone of Sizzle Rides - enough heft for a strong stick attack but still thin enough to be crashable. 
Primed for 6 rivets in the Vintage Old School configuration and currently outfitted with 2 old-timey rivets for a gorgeous rain-on-the-roof light Sizzle. 


Sounds like it's plucked from a 1954 Thelonious Monk recording. 


Dark. Semi-dry. Warm. Medium pitched with highs and lows present. Fairly complex with a light smokiness. Light sizzle. 


Great shape with no issues.  Beautiful 7 decade old patina mellows and smoothes this beauty. 


It's a joy and inspiring to play a 70 year old actualky Hand Hammered 20" from the days Zildjian was literally BUILDING their reputation.