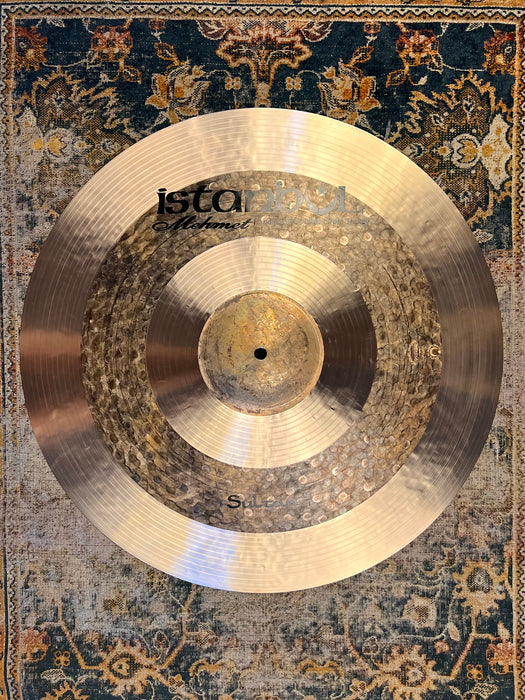 DARK WARM ISTANBUL MEHMET SULTAN 22" JAZZ Ride 2336 g IMMACULATE
Original price
$349.99
-
Original price
$349.99
Here's an amazing DARK, ultra WARM Ride that's crashable. 


And this one has THIN edges - easily bendable for the series. 


And it's the huge 22"! 


This particular Sultan is stamped "Jazz Ride", which Mehmet describes as: "Hot, dark, controlled sound, smooth and low bell. Jazz Ride has a smoother and lower bell than the regular model."


As you can see, this Sultan Series is Half-Lathed and Half-Unlathed, and Heavily Hammered throughout. The underside is fully Lathed.  A gorgeous, hand-crafted instrument!


Mehmets take on the Sultan cymbals as a whole:
"Sultan cymbals are a combination of the Traditional and the Turk Series. The sound has unique brilliant characteristics of the Traditional cymbal sounds and the dry & woody sound of the unlathed Turk cymbal series. The top of the cymbal has an unlathed cup producing a strong, compact bell sound and an unlathed concentric circle on the bow reducing overtone and drying the sound. The bottom of the cymbal is completely lathed.  Mellow Tone. Great Stick Definition. Controlled Overtones."


And that is accurate!


Weighing in at a lovely and thin 

2336

 grams, this Mehmet 22" plays like a Dark and surprisingly CONTROLLED Thin Ride. I would not call this cymbal super dry (like some Turk Rides), although the wash is fairly focused, compliments of the unlathed portions. 


The pitch is medium-low to low. The bell measures a generous 5.5" and is Unlathed and raw and provides a solid "DING" tone - rare for such a thin cymbal.  


You can draw different tones out of this cymbal when playing on different surfaces....lathed or unlathed. When you ride this cymbal at the outer edge, it really opens up and makes for a great THIN DARK Crash/Ride. It 


CRASHES LIKE A DREAM!!!  


DARK, medium-low in pitch, slightly SMOKEY, very warm and organic for a Sultan, and fairly focused and controlled. A beautiful sounding Hand Hammered 22".  



Immaculate. Sounds amazing!