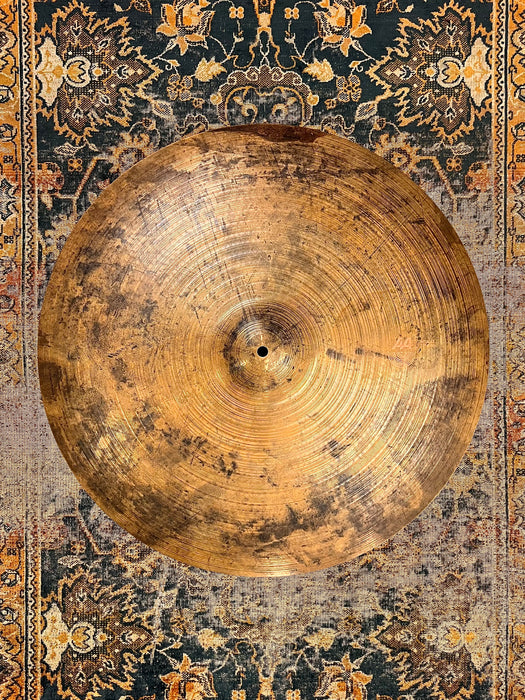 Dark Dry Versatile Sabian AA APOLLO 22" Ride or Crash MULTI 2366 g RAW Finish
Original price
$279.99
-
Original price
$279.99
Not a normally stocked item - even at most big box stores!  


And if you can find one, it'll cost you $435 for a stock photo guess at what it sounds like.  


I have great news!  Take a listen to this exact cymbal! This one is looks and sounds gorgeous! It's the most factory distressed

finish

I've seen on one of these -

raw

and blackened. Nice and

dry

stick attack. 



Sabian

Big And Ugly

APOLLO

22

"

Ride

or

Crash

Multi

Cymbal in fantastic condition.


One of the most underrated cymbals out there.


As you can see, the top surface of this cymbal is

RAW

, distressed and unlathed (or just very slightly lathed) on top however the underside is fully lathed providing added complexity to the

dry

attack of the top.


Wonderfully

dry

.  Surprisingly crashable.


Here's what

Sabian

has to say about this

22

":
"Versatility, versatility, versatility. Hit it hard for a modern sound, or play it with dynamics for controlled stick and sublime shimmer.

Apollo

was the God of Music and Poetry - this incredible

ride

cymbal delivers both."


Sure, but I think

Apollo

is getting short changed here. He had a lot of responsibility from Olympus. He was the god of music, truth & prophecy, healing, the sun and light, plague, poetry, and more. He was a busy dude. He didn't just sit down appreciating poetry and music. He made the Sun rise every day. Not even Dave Elitch does that.


Weighing in at a perfect

2366

grams, this

Sabian

AA

plays like a great

DRY

and MEDIUM

DARK

Thin

Ride

or Huge

DRY

Fast

Crash

.


As you would imagine, the attack is very prominent-compliments of that UNLATHED/VERY SPARSELY LATHED top- and the the wash is medium

dark

and controlled, definitely organic and ever so slightly complex---compliments of the lathed underside, however it certainly remains reined in.



Dark

.

Dry

. Thin. Bendable edges. Very responsive. Opens quickly and easily. Very quick decay.


Great condition. Light use. No issues. The brand new one looks exactly like this one - this is how they come from the factory. 
Can occupy a lot of positions on the kit!


Hard to actually find where you can hear it first, buy with confidence!  And far from a $434 special order.