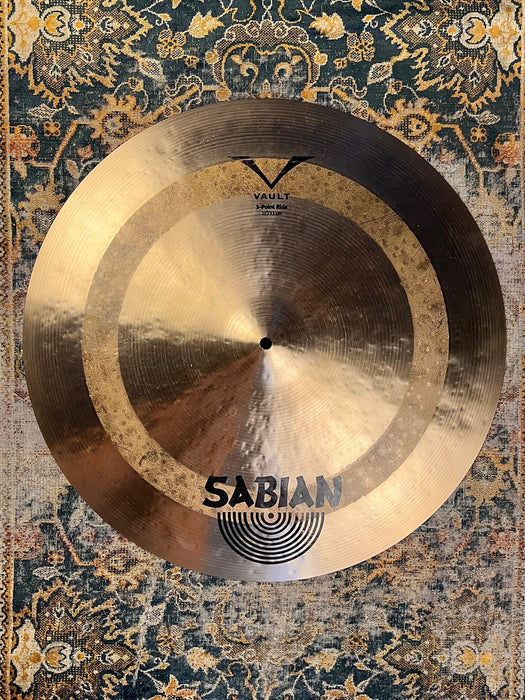 THIN VAULT Sabian HHX JACK DEJOHNETTE 3-POINT 21" Ride 2382 g
Original price
$439.99
-
Original price
$439.99
These are hard to find outside a google stock photo. Well…THIS ONE you can see and hear! No guessing on what your next cymbal sounds like. 


And this beauty is pretty thin for this model! 2382 grams.  Terrific light airiness on this one! 


Jack DeJohnette has been the inspiration behind many great, innovative cymbals and this 3 - Point Vault 21" Sabian continues the tradition. 


This is the earlier VAULT SERIES model from the first few years.  


2382 grams - thinner than others I've seen. 


Hand Hammered. One raw, unlathed band around the perimeter for a hint of dryness. 


Mini Bell to mellow the overtones and allow the stick attack to breathe. 


Great stick attack. Complex. BUT controlled. Sweet and breathy light and airy, smoky tone.  Definitely crashable. 


Refined and smooth, especially for Hand Hammered HHX. 


Sabian describes this cymbal as:
"Delivering a dark, hand hammered, smoky tone across 3 playing points – lathed inner and outer rings, and a raw, unlathed centre ring – this innovative 3-Point model was designed with the legendary Jack DeJohnette."


As versatile and musical as the man who inspired it.  


Amazing shape with a light patina just starting to grace it. Mellowed beautifully. 


No need to spend more on a guess. This one sounds incredible. Guaranteed.