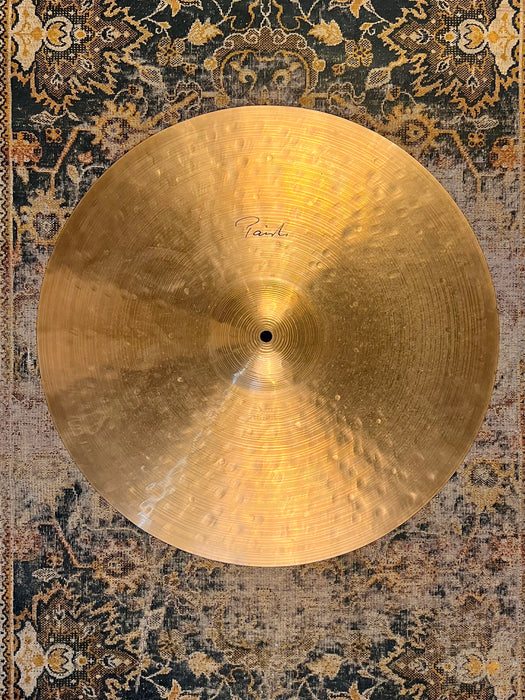 Rare Discontinued DRY Paiste TRADITIONAL Medium Heavy Ride 20" 2397 g CLEAN
Original price
$399.99
-
Original price
$399.99
What if that $505 Light Ride is TOO DAMN WASHY! Not enough stick attack??


What's a person to do???


Well, Paiste doesn't care about you because they ONLY make a Light 20" Traditional anymore. The Medium Light, Medium and Medium Heavy have gone the way of the dodo.  


But because I care…..


I'm offering this wonderfully DRY and long discontinued Paiste Traditional MEDIUM HEAVY 20" Ride in amazing condition!  


And because I really care, you can even hear it before you buy!


Paste described this cymbal as:
"Medium dark, warm, full. Medium wide range with fairly clean mix. Graceful, light feel, very coltrollable. Fairly strong woody ping. A dark ride cymbal with strength and projection."


And then they went and discontinued it!  


With a weight of 2397 grams, this Rare 20" Traditional yields fantastic stick definition while still remaining dark and warm.


It has the BEST stick attack of all rides in the Traditional Series. The bell is med-low in pitch and solid enough for the latin thing and even, funk, fusion and pop. The attack is stronger than the Med Light Ride and not as gong y/washy as the light Ride.


Out of all the Paste Traditionals, this Medium Heavy projects the best. It is heavier and more dry and focused than the other Trads but it still has that dark, warm, organic nature.


The world is your oyster.  



Looks incredible. Sounds incredible. Very hard to find. Collectible.